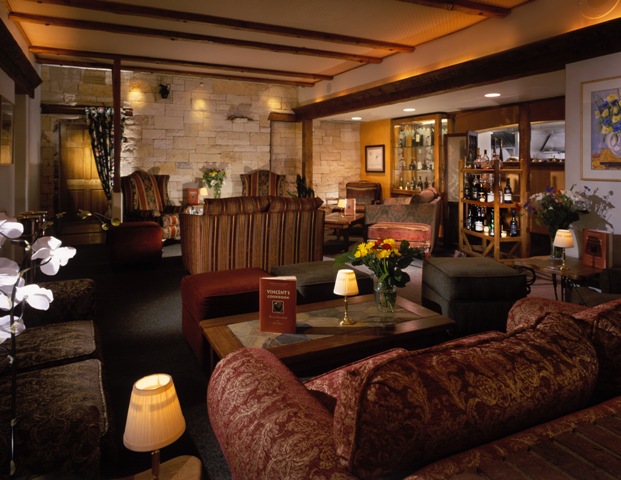 Ready for a little ear candy to go along with chef Vincent Guerithault's top-notch fare? Well, Vincent on Camelback has just announced the addition of live entertainment on Friday and Saturday evenings from 6 to 10 p.m. Performances, by well-known Valley entertainers, will be held in the restaurant's lounge and guests are also treated with Guerithault's mouth-watering appetizers.
Vocalist Cindy Francois, accompanied by pianist Jerry Howard, entertain guests every Friday evening in the Vincent on Camelback lounge. Francois, who has performed in numerous venues throughout the Valley (the likes of which include the Arizona Biltmore Hotel, the Phoenician and Ritz-Carlton, Phoenix), has been described as "the benchmark by which other Valley singers are judged, a tiny bundle of vocal dynamite who does equal justice to a jazz ballad, a Broadway belter or a Top 40 rouser."
On Saturdays, lounge visitors at Vincent on Camelback can expect to hear from vocalist Bridget Maynes, along with pianist Auggie Mendoza. They are best known as the Bridget & the "Aug" duo, which has been in existence since 1990. Both Maynes and Mendoza come from an extensive musical background and continue to perform at all the major resorts in Phoenix and Scottsdale, as well as throughout Arizona. Together, they perform song selections from the 1920's to the 1990's. Maynes is the founder of the award-winning MayneSwing Girls Trio, who have won the Best Vocal Group of the Year Award for four years in a row by Jazz In AZ. And Mendoza, or "The Aug," is a most familiar name in the Valley's music industry as bassist, pianist, synth/tech/keyboardist and music writer/arranger. He performs locally, nationally and internationally. He is among the Valley's top musical arrangers and has written musical arrangements for the majority of the top bands, orchestras and performers throughout the Valley.


And we mustn't forget the true star of the show: Guerithault's food. Speaking of which, the chef's annual Champagne Easter Brunch is set for Sunday, April 12 from 10 a.m. to 2 p.m. at Vincent on Camelback. Guests can look forward to a selection of appetizers (like chilled avocado soup), entrées (including salmon baked in a puff pastry) and delectable desserts, all accompanied by coffee, orange juice and Champagne. Each guest will be treated to a delicious trio of Guerithault's famous desserts, and soufflés will be available to order. A children's brunch menu will also be available. The brunch is priced at $49 per adult and $16 for children 10 years and under. 3930 E. Camelback Rd., Phoenix. 602.224.0225, www.vincentsoncamelback.com.