The restaurants at Scottsdale's Grayhawk Golf Club offer four patio dining experiences highlighted by views of the golf courses and nearby McDowell Mountains.
And on Wednesday, February 10 one of the club's most popular patio pastimes – "Live at Grayhawk" – returns to Quill Creek Café (5 – 8:30 pm), featuring live acoustic performances by Vinyl Station along with drink and appetizer specials.
Wednesday evening live performances are back for the spring. It's just a fantastic place to relax and take in some tunes. Everybody loves the atmosphere. Get here early, it fills up fast.


– Brian Bevard, director of operations for Grayhawk Golf Club
The club's restaurants were built to maximize indoor-outdoor seating primarily to "take advantage of the great weather we have in the Valley of the Sun," Bevard added. And over the past year, the patios have become even more popular as people increasingly "look for outdoor options."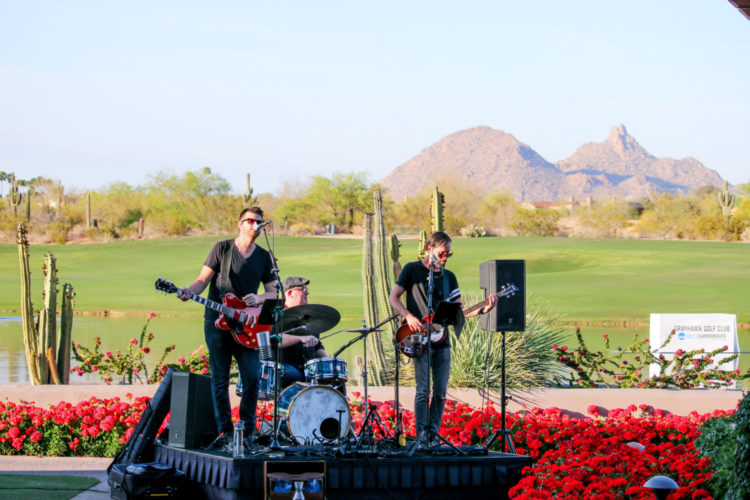 The Quill Creek Café, located in the clubhouse, opens to a spacious patio overlooking the Raptor golf course, lake and McDowell Mountains. It offers traditional tables as well as casual high-top and lounge areas radiating from a feature fireplace focal point.
My concept for the patios at Grayhawk was very simple. Provide a combination of fully covered, shaded, and open areas all looking at the near view of the golf course and the far view of the mountains.


We wanted to make it feel intimate, small spaces, yet flexible, to hold after-tournament gatherings or holiday events.


– Douglas Fredrikson, founder, and president of Douglas Fredrikson Architects, the firm that designed Grayhawk's clubhouse and Isabella's Kitchen
Phil's Grill, Grayhawk's 19th hole named after the club's TOUR ambassador, Phil Mickelson, offers similar views as nearby Quill Creek Café, along with tables, campfire-style lounge area, and comfortable alcove.
Open for breakfast and lunch, The Morning Joint coffee shop offers a shady, pet-friendly patio to enjoy morning coffee, breakfast/lunch, fresh juices, and smoothies.
Across Thompson Peak Parkway from the clubhouse, Grayhawk Golf Club's Isabella's Kitchen overlooks the Talon course, McDowell Mountains as well as the city lights in the Valley below.
Large garage-style doors roll up to bring the outdoors into the main dining room while windows surrounding the bar do the same. The patio wraps around the building to provide ample fully covered and partially covered space to encourage guests to relax and enjoy time with family and friends.
For more information visit https://grayhawkgolf.com/dining-overview/, or call 480.502.1700.