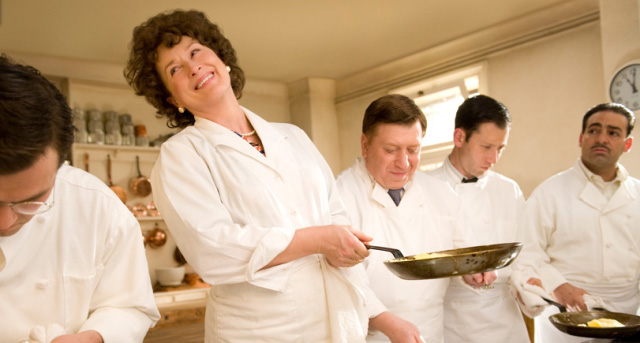 Today, the highly anticipated film "Julie & Julia" hits theaters. Chef Vincent Guerithault (who once cooked for Julia Child), of Phoenix's Vincent on Camelback and Vincent Market Bistro, is celebrating its release with two special movie-themed menus (one for each restaurant) for the month of August. Take a look at the mouthwatering menus:
Vincent on Camelback, $35 plus tax and gratuity
Starter Choice
Lobster Omelette or Tomato and Green Bean Salad
Entree Choice
Poulet Poele aux Herbes (Chicken Sauteed with Herbs) or Salmon in Puff Pastry with Basil Beurre Blanc (chef Vincent prepared this dish for Julia Child)
Dessert
Crepes Flambee and Mousse au Chocolat
Vincent Market Bistro, $18 plus tax and gratuity
Starter
Soupe au Pistou Verte (Green Zucchini Soup with Garlic & Basil)
Entree
Medaillions de Porc Sautes (Pork Loin Medallions with Herbs & Cream)
Dessert
Ile Flottante (Meringue in Creme Anglais)
All of the featured recipes from the Vincent on Camelback dinner are from the book "From Julia Child's Kitchen," with the exception of the salmon in puff pastry, a dish that Vincent prepared for Julia Child at a dinner. As a delicious bonus, those who attend either "Julie & Julia" dinner will receive a free bag of popcorn at Harkins theaters and if you bring in a "Julie & Julia" ticket stub, you'll receive a free dessert from Vincent. Sweet! 3930 E. Camelback Rd., Phoenix, 602.224.0225, https://www.vincentsoncamelback.com/.
Synopsis of "Julie & Julia"
Meryl Streep is Julia Child and Amy Adams is Julie Powell in writer-director Nora Ephron's adaptation of two bestselling memoirs: Powell's Julie & Julia and My Life in France, by Julia Child with Alex Prud'homme. Based on two true stories, "Julie & Julia" intertwines the lives of two women who, though separated by time and space, are both at loose ends…until they discover that with the right combination of passion, fearlessness and butter, anything is possible.