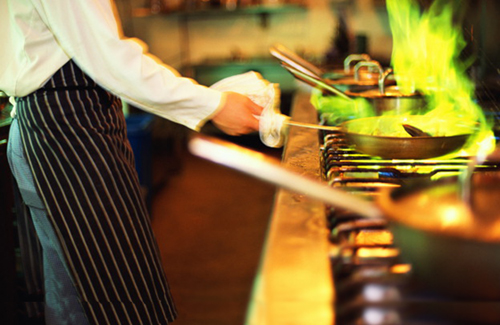 We all know and love the popular Food Network show. Now, Litchfield Park's Wigwam Golf Resort & Spa is hosting its very own Iron Chef competition. This Saturday from 6 to 8 p.m., Wigwam's Executive Chef Urs Balmer will reveal one secret ingredient to Red's Steakhouse's Chef de Cuisine Michael Scott and The Grill's Chef de Cuisine. The two chefs will then create an appetizer and entree, featuring the secret ingredient, which will be judged by restaurant guests on presentation, taste, and originality and use of secret ingredient.
After the Iron Chef competition, Wigwam will host a Bartender Shake Off where the resort's bartenders will be given a secret ingredient to create a cocktail. These cocktails will also be judged by restaurant guests. During the interactive event (which will take place outdoors at the Kokopelli Terrace at the Wigwam), guests can to chat with the chefs and bartenders.
Sounds like fun, huh? To reserve your spot, call 623.856.1032 or e-mail sgilmore@wigwamresort.com. The event is $42 per person (excluding tax and gratuity).