Nothing gets me into a festive spirit more than food. Between shopping trips and decking my halls, I've been warming hot cocoa during the evenings and might treat myself to a candy cane post-lunch to help get me in the mood for Christmas. So, let's just say, I was very excited to hear what Estate House had up its sleeve this month.
To get us–and our bellies–into the holiday spirit, Scottsdale SouthBridge's luxe Estate House is featuring a different seasonal-inspired dessert souffles all month long (desserts will change each week). Pastry Chef Jonathan Spahr adds a signature twist to the traditional light and fluffy baked cake incorporating gingerbread, Giandujia chocolate, Bourbon Eggnog and Lemon Rosemary flavors. The holiday soufflés will be offered Monday though Sunday during lunch and dinner. The schedule is as follows:
December 7 to December 13 – Meyer Lemon Rosemary, Muscat Sabayon
December 14 to December 20- Ginger Bread Soufflé, Anise Orange Anglaise
December 21 to December 27- Giandujia Chocolate Soufflé, Bourbon Eggnog Mousse
December 28 to January 3- Treacle Toffee Soufflé, Cinnamon Crème Fraiche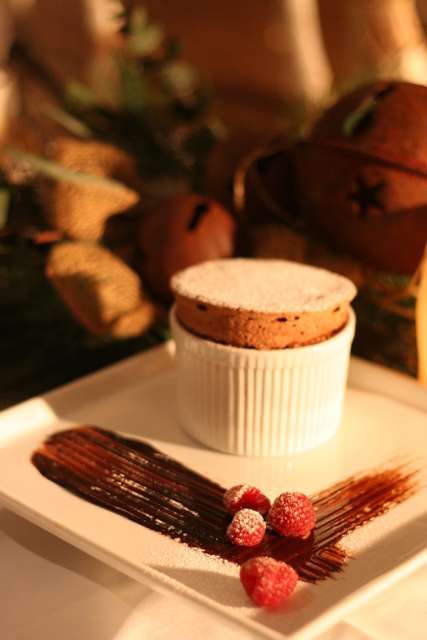 Here is one of Chef Spahr's superyummy holiday recipes, that you can whip up at home:
Holiday Souffle
By Executive Pastry Chef Jonathan Spahr of Estate House
Yield: 6-8 soufflés
9 oz. Couveture chocolate (milk, white, or dark)
18 oz. Fresh egg whites at room temperature
1 oz. Granulated sugar.
3.5 oz. Granulated sugar
¼ C Water
½ tsp. Cream of tartar
1 Vanilla bean, split and scraped
4 T Softened butter
Granulated sugar for coating
Large pastry bag
Pre heat conventional oven to 375 degrees. Melt chocolate and reserve in a warm place. Brush the inside of 6-8 soufflé ramekins with softened butter, then coat with granulated sugar. Combine egg whites, one ounce of sugar, and ¼ tsp. cream of tartar, in mixing bowl and whip to stiff peaks. Meanwhile, in a small sauté pan combine ½ tsp. cream of tartar, 3.5 ounces of sugar, and water, then cook to 240 degrees. Slowly pour cooked sugar syrup into meringue while whipping, immediately add vanilla, then chocolate.  Fold together gently until uniform, then it place into a pastry bag. Pipe the batter into the prepared ramekins starting from the bottom center, and blooming upwards to the top. Smooth the batter level with the rim using a pastry spatula. Bake for 15-20 minutes. Serve immediately with your favorite liquor, dessert sauce, or custard.
* Any flavor can be achieved by adding a small amount of food flavors including peppermint, rum, raspberry, lemon, etc. For a mocha soufflé, fold in 1/3 cup fresh coffee grounds to the batter.
Estate House is located at 7134 E. Stetson Dr., Suite 200, Scottsdale, 480.970.4099, http://www.estatehouseaz.com/