The Phoenician isn't waiting until Christmas Eve to start with this season's festive celebrations. All month long, the Phoenix resort will host a slew of fun holiday events–and, yes, plenty of food and drink is on the agenda. Here's the December lineup:


Holiday Tea – The Phoenician Tea Court (December 1 – January 1)
Seatings: 1:30-3 p.m.
Price: $55 per person
Featuring finger sandwiches, fresh-baked scones with Devonshire cream and strawberry preserves, pastries, unlimited sparkling wine and a diverse selection of premium tea blends, all accompanied by a live pianist and presented in a festive, holiday atmosphere.
Breakfast with Santa – Windows on the Green (December 19 and 20)
First Seating Each Day: 8:30 a.m., 8:45 a.m., 9 a.m.
Second Seating Each Day: 10:45 a.m., 11 a.m., 11:15 a.m.
Price: $40 for adults; $30 for children ages 3-12
The menu features French toast; chocolate-chip pancakes, scrambled eggs, fresh fruits and granola yogurt parfaits. The little ones can enjoy a digital photo with Santa and cookie decorating with The Phoenician Pastry Team.
Traditional Christmas Brunch Buffet – Il Terrazzo (December 25)
Time: 10 a.m.-3 p.m.
Price: $79 for adults; $39 for children 12 and under
The menu features a carving station, seafood, pasta, paninis, breakfast favorites and house-made desserts.
Traditional Christmas Dinner – Il Terrazzo (December 25)
Time: 6-10 p.m.
Price: $70 for adults; $30 for children 12 and under
The four-course menu features a choice of prime filet mignon, roasted duck or the Feast of the 7 Fish (Zuppa di Pesce), along with a selection of soups, salads and gingerbread cake with mascarpone mousse and flambéed apples for dessert.
Traditional New Year's Eve Dinner – Il Terrazzo (December 31)
Time: 6 p.m.-Midnight
Price: $120 for adults; $50 for children 12 and under
The seven-course menu features roasted fig, lobster bisque, little gem lettuce, day boat scallops and a choice of California halibut or filet mignon "Rossini," as well as cheese and an Ibarra chocolate bisque for dessert.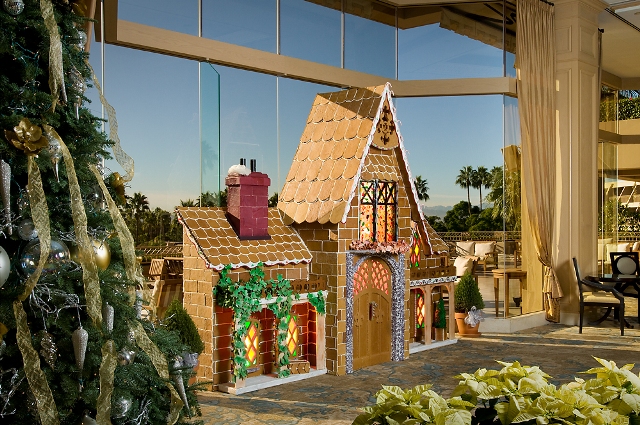 The Phoenician's other Demember goodies include:
Holiday Breads from Master Baker Ben Hershberger
The Phoenician's Master Baker, Ben Hershberger, introduces two new signature breads to add flavor to any holiday gathering – sweet pumpkin and savory sun-dried tomato. Both offerings are available for retail purchase at just $4.50 a loaf. Call the resort's Café & Ice Cream Parlor at 480.423.2658 to place an order.
Phoenician Gingerbread House
Visit one of the largest gingerbread houses in the Valley of the Sun, designed by Executive Pastry Chef Roy Pell and The Phoenician Pastry Team. Requiring approximately 250 hours to produce, the confectionery creation features 500 pounds of gingerbread, 210 pounds of flour and 108 pounds of sugar. The Phoenician Gingerbread House is on display to the general public in the resort's main lobby now through January 1. Admission is free.
For more information, call 480.423.2530 or visit http://www.thephoenician.com/.