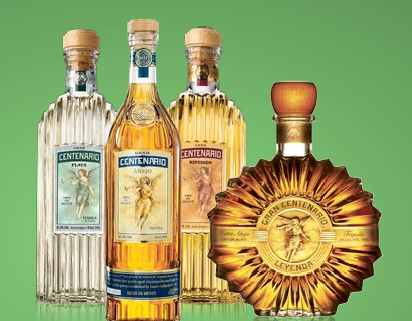 On Tuesday, June 2, Z'Tejas Southwestern Grill in Phoenix will be presenting the Gran Centenario Tequila dinner, complete with five courses, each accompanied by a unique cocktail and tequila education hosted by Z'Tejas founding chef Jack Gilmore and chefs Agustin Castorena and Leo Madrigal. And that's not even the best part–you see, a portion of the $65 cost will be donated to the Cystic Fibrosis Foundation.
The five-course dinner will begin with a presentation by Proximo Spirits representative Mary Gilbert, detailing the three levels of tequila, various storage techniques, along with information pertaining to each unique cocktail that accompanies every course. The five tequila-infused courses include the following:
Appetizer
Fire-roasted poblano queso fundido with grilled flour tortillas
Served with 6th street frozen margarita, topped with a floater of Gran Centenario Plata

Salad
Chipotle-grilled jumbo prawn blue crab and jicama salad
Served with pear-infused Gran Centenario Reposado monin mojito
Second
Achiote pork tenderloin crispy taco, baby pickled red onion and grilled pineapple salsa
Served with Gran Centenario Plata monin mojito
Main Course
Wood-fired medium rare beef tenderloin crispy red chile fries with scallions and cotija cheese and sweet corn crush
Served with Rosangel apple smash margarita
Dessert
Chocolate crumb brownie with pumpkin seed brittle and vanilla ice cream
Served with cinnamon coffee spiked with Gran Centenario Anejo
The dinner is $65, including tax and gratuity. To RSVP, call 480.612.6384. Paradise Village Gateway, 10625 N. Tatum Blvd.,
Phoenix, http://www.ztejas.com/.
About the Cystic Fibrosis Foundation
The mission of the Cystic Fibrosis Foundation, a nonprofit donor-supported organization, is to assure the development of the means to cure and control cystic fibrosis and to improve the quality of life for those with the disease. The Foundation is the leading organization in the United States devoted to cystic fibrosis. It funds and accredits more than 115 CF care centers, 95 adult care programs and 50 affiliate programs, and has 80 chapters and branch offices nationwide. The Cystic Fibrosis Foundation is one of the most efficient organizations of its kind. It has received a four-star rating for sound fiscal management from Charity Navigator, the largest independent charity evaluator in the United States and is an accredited charity of the Better Business Bureau's Wise Giving Alliance. http://www.cff.org.
History of Gran Centenario Tequila
In 1858, Lazaro Gallardo, a tavern owner and tequila producer, invented a unique tequila-making process called Selección Suave, of Smooth Selection. This unique process blended newly rested tequilas with the smoothest, aged tequila reserves creating the highest quality and best tasting tequila available. In the late 1800s, Lazaro Gallardo named his tequila, Gran Centenario to commemorate the beginning of a new century and began selling it as his tavern. In 1920, Lazaro's son, Luciano decided to bottle Gran Centenario. Inspired by the Art Deco style of architecture, he designed a bottle similar to the one we use today. http://www.grancentenario.com/.