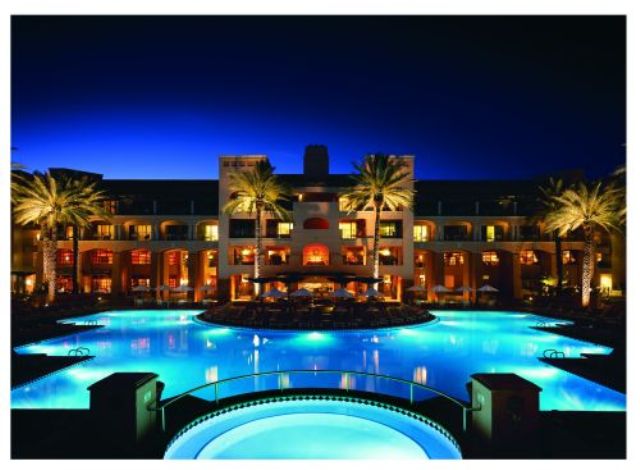 At 8:30 p.m. on Saturday, March 27, Fairmont Scottsdale is marking Earth Hour 2010 with several of energy-saving, green alternatives. Starting at the resort's entrance, guests will arrive at the front drive lined with luminaries and welcomed into the candlelit lobby. Also during Earth Hour, all of the resort's fountains will be shut down, lagoon fire features and decorative lights in the trees will be turned off and the ballroom foyers will be dimmed. Resort guests will be invited to join in the program by turning off any lights in their room, and colleagues will be encouraged to take Earth Hour with them by shutting off lights at home. Engineers at the Fairmont Scottsdale will adjust temperatures on central heating and cooling systems and will shut down all hotel televisions and computers not in use.
Fairmont Scottsdale's restaurants are also getting in on the action; Earth Hour cocktails (containing organic and eco-friendly ingredients) can be sipped and enjoyed by candlelight:
La Hacienda by Richard Sandoval: The Organic Mother Earth Margarita, made with Partida organic 100 percent blue agave tequila, organic agave nectar and home-made sour mix, $12
The Grill at TPC Scottsdale: The Planetini, made with organic crop vodka, a dozen mint leaves, Midori melon liqueur and simple syrup, garnished with a blue and white sugar stick, $12
Michael Mina's Bourbon Steak: The Inconvenient Chartreuse, made with Hendrick's gin, fresh lemon, green chartreuse and organic, muddled cucumbers, $12
LV Bistro: Dim to Dark, made with two shots of organic white rum, ½ shot of prickly pear syrup, a ½ shot of blue curacao on the bottom of the frosted martini glass and a dash of orange juice and cranberry juice, garnished with maraschino cherries and a blue sugar rim, $10
Stone Rose Lounge: The Amazon Cooler, made with VeeV vodka, three basil leaves, two cucumber slices, fresh lemon juice and simple syrup, muddled then strained into a martini glass, garnished with an apple slice, $11
What is Earth Hour? Earth Hour is a global WWF climate change initiative that began in Sydney in 2007, when 2 million people switched off their lights. In 2008, more than 50 million people, including several Fairmont hotels around the globe, participated. In 2009, hundreds of millions of people and over 4,000 cities in 88 countries officially switched off to pledge their support for the planet. The movement symbolizes that by working together, each of us can make a positive impact in this fight, protecting our future and that of future generations. For more information on Earth Hour, visit www.earthhour.org.