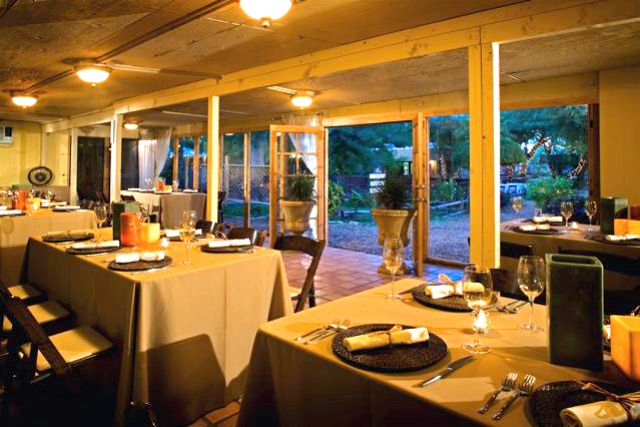 Easter isn't the only holiday coming up; Friday, April 22, is Earth Day. To celebrate our Mother Earth, Phoenix-area restaurants, including Taggia at Scottsdale's FireSky Resort and Quiessence at The Farm at South Mountain, are hosting special Earth Day dinners spotlighting fresh, local produce.
3rd Annual Earth Dinner at The Farm On Wednesday, April 20, Quiessence Restaurant at Phoenix's The Farm at South Mountain will host its 3rd Annual Earth Dinner. The 100 percent vegetarian meal will be sided with wines from Arizona's Pillsbury Wines (Sam Pillsbury will actually be in attendance). The menu will be decided the day of the event, depending on what's fresh at the moment. The event starts at 6 p.m. with a welcome reception on the patio with wine and hors d'oeuvres; dinner begins at 7 p.m. The 3rd Annual Earth Dinner  at the Farm is $69 per person. Seating is limited so call 602.276.0601 to reserve your spot. http://www.quiessencerestaurant.com/.
EarthCare Week Menu at Taggia at FireSky Resort Taggia, at Scottsdale's FireSky Resort, often trys to be kind to Mother Earth when possible as Chef James Siao does plenty of local sourcing, composting as well as uses his on-site herb garden. This week, Taggia is upping its eco-friendliness with its EarthCare Week Menu. The four-course meal will feature local, organic ingredients and is $45. Available through April 25. http://www.taggiascottsdale.com/.
Here's a taste:
Insalata:
Local greens, Drake Farms goat cheese, Windmill Farms tomatoes and citrus vinaigrette
Primi:
Schreiner's sweet sausage, house-made potato gnocchi and wild mushrooms
Entrée:
Wild Alaskan halibut, controne beans, fennel, Windmill Farms heirloom tomatoes and saffron
Dessert:
Local Crave artisanal ice cream or locally made Wei infused dark chocolate