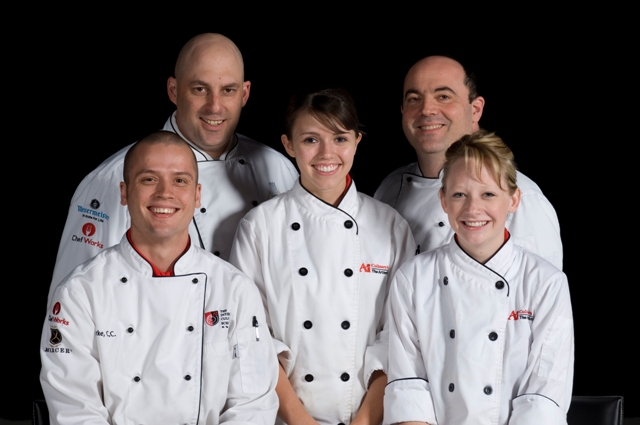 Three students from The International Culinary School at The Art Institute of Phoenix have been invited to compete on Food Network's popular series Iron Chef America. This challenge marks the first time in the show's history that culinary students have been invited to compete in kitchen stadium. (Several Valley chefs have taken a stab at Iron Chef.) The episode premieres on Sunday, Sept. 27 at 9 p.m. ET/PT and features the students battling against Iron Chef Michael Symon. Student challengers include Katelyn Remick, 21, who is expected to graduate with a bachelor's degree in Culinary Arts in September 2009; Julie Fiedler, 20, a second year Culinary Management student; and Tyler Burke, 24, a third year Culinary Arts student.
Here's what these talented students had to say about this amazing opportunity:
"When you grow up watching Iron Chef like I did, and somebody tells you you're not just going to the show, you are actually competing on the show, that is a real thrill," Remick said. "It's absolutely a dream come true."
"This is a huge opportunity for the team, our school, and especially for me as a professional," Burke said. "I want to make every person that's taken a part in shaping me as a chef more than proud."
"I've participated in competitions before but nothing this extraordinary, so I feel extremely grateful for being selected," Fiedler said.
According to Chef Eric Watson, associate instructor and assistant academic director who leads The International Culinary School at The Art Institute of Phoenix's team, this team is no stranger to competition. The group has been together for more than two years and has participated in many competitions, receiving two gold and two silver medals in state and regional American Culinary Federation competitions.
Team members are selected based upon academic excellence, performance experience and passion for the culinary arts. To prepare for the Iron Chef America competition, the student challengers practiced four to five times per week in addition to attending classes. "Most of the world's best chefs never have an opportunity to challenge the Iron Chefs, let alone appear on national television," Watson said. "It's an incredible honor and an experience of a lifetime for all of us."
The Art Institute of Phoenix has planned a feast of Iron Chef America celebratory events at the school, 2233 W. Dunlap Avenue in Phoenix. The public is invited to "Meet the Iron Chef America Student Challengers" at an Open House on Sept. 29. On Oct. 6 and 7, the public is invited to the Gallery Cafe for a fund-raiser dinner featuring four courses created by the student challengers. Seating is at 7 p.m. Cost is $49.95 per person. All proceeds will benefit the Careers through Culinary Arts Program (C-CAP) to create scholarships for deserving students who wish to pursue their culinary education at The International Culinary School at The Art Institute of Phoenix. http://www.artinstitutes.edu/culinary-arts.aspx.