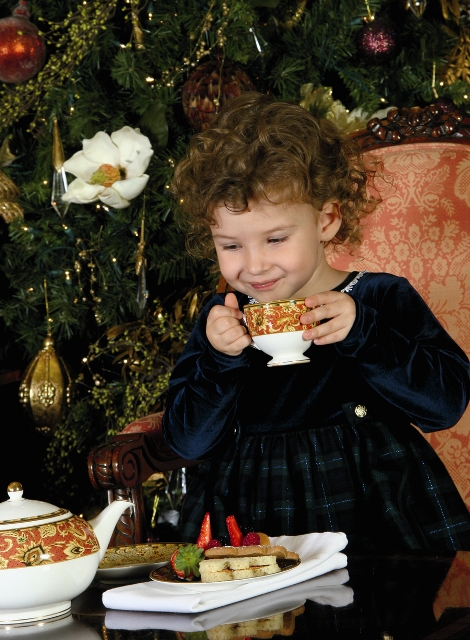 Christmas has come a bit early this year at The Ritz-Carlton, Phoenix. Guests and residents can escape from summer next month, beaming themselves straight to December, thanks to The Ritz-Carlton, Phoenix's July lineup of holiday events, including holiday tea for kids and cocktails and caroling for adults, to a cupcake tea for young and old alike.
Jeffrey Bear Tea
The Ritz-Carlton Afternoon Tea Mascot, Jeffrey the Bear, takes center stage for the first annual Jeffrey Bear Tea July 10, 11 and 12 (seatings at noon and 3 p.m., noon seatings only on July 12). Gourmet hot chocolate with marshmallows, bright-red chilled lemonade, finger sandwiches and petite pastries will be followed by story time with Jeffrey and a sing-a-long around the piano. Children and adults are also invited to enter their stories into the Jeffrey Bear Storybook Contest (details below). $35 per adult, $25 per child under 12 (exclusive of tax and gratuity).
Jeffrey Bear Storybook Contest–"Jeffrey Bear Takes a Trip around the World"
Jeffrey Bear–the afternoon tea mascot at The Ritz-Carlton, Phoenix–is a playful little bear who loves to go on adventurous journeys. He loves to meet new people, always likes to drink tea, and sometimes gets into mischief. This year Jeffrey wants to travel the world, and local residents have the chance to tell the story of his voyage. Children and adults are invited to write a one-page story about one of Jeffrey's imagined adventures. Perhaps he goes to Europe or Asia, or maybe he makes his way across Arizona. Submitted stories will be compiled into one book that will be read aloud during the hotel's annual Teddy Bear Tea in December. Each person who submits a story will receive a complimentary Jeffrey Bear.
Cupcake Tea and Hat Fashion Show
The Ritz-Carlton presents a one-of-a-kind fashion experience viewing some of the newest creations by this year's featured Festival of Hats Extravaganza designer, Melissa Ondo. The collection includes English-style toppers, fanciful fascinators and sweeping-brimmed chapeaux and will be unveiled at a special cupcake tea on July 12 at 4 p.m. $25 per person, or $35 with Champagne (exclusive of tax and gratuity).
Cocktails and Caroling
Described by many to be the highlight of the hotel's December holiday season, Cocktails and Caroling returns to The Ritz-Carlton Lobby Lounge with a new summer twist. Jeffrey Hattrick, Nicole Pesce and their band perform holiday classics as well as off-season selections from jazz to classical. This is a one-night-only engagement (July 13 at 7:30 p.m.), and seating is limited. $25 per person.
Event and dining reservations as well as rules and entry forms for the Jeffrey Bear Storybook Contest are available at The Ritz-Carlton, Phoenix, 2401 E. Camelback Rd., Phoenix, 602.468.0700, www.ritzcarlton.com/phoenix.