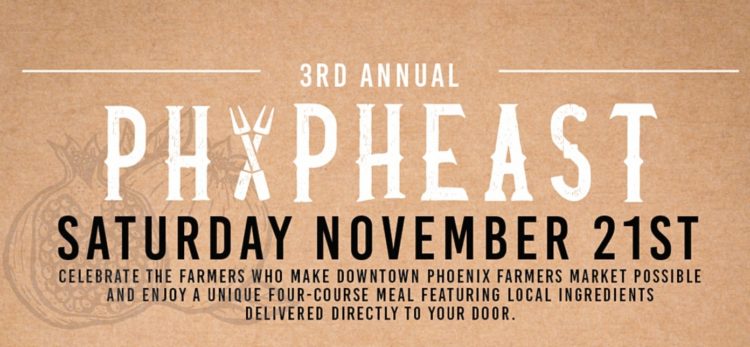 Downtown Phoenix Farmers Market invites you to celebrate local food at its finest at the 3rd Annual PHX Pheast on Saturday, November 21, 2020! 
This year, amazing local chefs will prepare a delicious locally sourced meal and seasonal mocktail featuring locally Arizona grown ingredients. Each meal will be delivered directly to your door Saturday, November 21st between 2 pm – 5 pm.
Meals are cold and ready to reheat or have minimal preparation instructions. You'll also have access to exclusive video content featuring cocktail tutorials, kitchen tips, and stories from our chefs and farmers. Meal preferences including gluten-free and vegan are available.

Iconic Cocktail Mocktail: Start with Iconic Cocktail's seasonal mocktail delivered in a special PHX Pheast cup. Just add ice and your favorite spirit for the perfect seasonal cocktail. Watch Matt and Kaylee mix up their recipe in a video you can access online.
Breads & Spreads: Enjoy fresh Noble bread (gluten-free available) and farm-fresh sweet and savory spreads that highlight Crooked Sky Farms. Tune to our youtube channel to access an interview with Farmer Frank from Crooked Sky Farms. No preparation needed.
Seasonal Soup: Soothe your soul with a bowl of soup from Chef Danielle Leoni The Breadfruit and Rum Bar. Heat and eat unique flavors that highlight a blend of our local farmers' fall bounty. Chef Danielle is sharing her tips for shopping local produce at the farmers market in a video just for you!
Sonoran Pasta Co.: There's nothing like the flavors of fresh pasta that cooks up in 4-minutes and top it off with a sauce prepared by your favorite local chefs. Meat lovers will enjoy a rich sauce highlighting grass-fed beef from Double Check Ranch.
Sweet Treats Our bakers are busy collaborating with our farmers to craft a sweet treat to complete your PHEAST.
For more information, visit: https://www.phxpheast.org/
To order your meal, visit: https://www.eventbrite.com/e/phx-pheast-2020-tickets-125257038173