The Buzz Eatery & Treats, located at 15215 North Kierland Boulevard, Suite 190, is set to open its doors this November.
The new concept will serve as the "hive" where shoppers, residents, neighbors, and visitors can enjoy everything from a cup of coffee in the morning to a glass of wine in the evening — and everything in between. 
The Buzz is a convenient and casual place to dine, socialize with neighbors, enjoy a sweet indulgence with the kids, or grab a nourishing meal to take home or back to the office. We have something for everyone and multiple options so guests can feel comfortable when they walk through our doors – whether they stay awhile or simply 'buzz in and buzz out.'



– Mike Torresso, co-owner of The Buzz Eatery
Guests of all ages can get their "buzz" on at The Buzz Eatery & Treats with a beverage menu that encompasses unparalleled drip coffee, espresso-based options, kombucha and cold press coffee on tap, botanical teas, nitro teas, and other seasonal sips including refreshing summertime lemonade and apple cider in the fall.
Guests will also find craft beer on tap, wine, seasonal cocktails, and homemade "buzzy" popsicles for the kids (made with real sugar) and for the adults (made with an added "boozy" kick).
Those ready for a buzzy bite can enjoy a range of "all day faves" including breakfast items like the "build your own" avocado toast or egg scramble, customizable acai bowls and a breakfast burrito; hot and cold sandwiches such as chicken salad, grilled cheese and BLT; soups and salads; and sharable "for the table" items such as Abby's Deviled Eggs or a honey flight tasting board.
Those on the go can select a wide range of conveniently pre-packaged "Side Kicks" (many of which feature the Buzz's own honey) such as overnight oats; salads from Greek to Caesar; classic sandwiches such as egg salad and smoked turkey; and "Buzz Bites" energy balls that come in a variety of flavors with gluten-free and vegan options.
Catering orders can also be arranged for customers that prefer to bring the buzz to their own hive.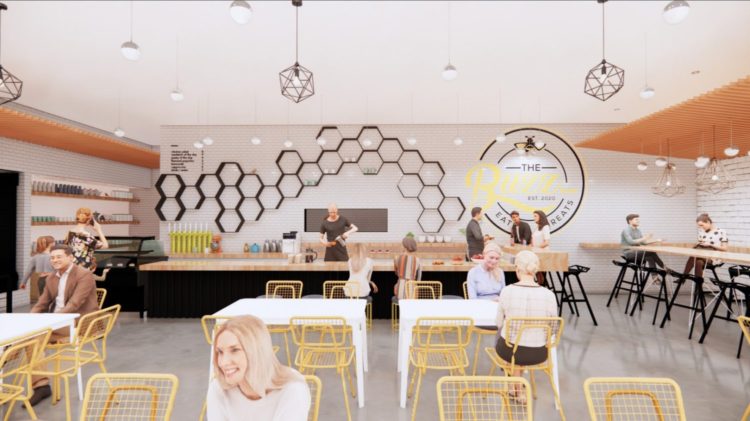 The Buzz's atmosphere is bright, open, and airy with counter seating, indoor dining, and soon an expansive patio for dine-in guests. A dedicated takeaway area ensures grab-and-goers can "buzz in and buzz out" — and get exactly what they need in a timely fashion.
The Buzz is specifically designed to cater to customers in a COVID world, with emphasis on health, safety, and cleanliness.
The Buzz is open from:
7:00 a.m. to 3:00 p.m. Sunday through Wednesday
7:00 a.m. to 8:00 p.m. Thursday through Saturday
For more, visit www.thebuzzeatery.com.