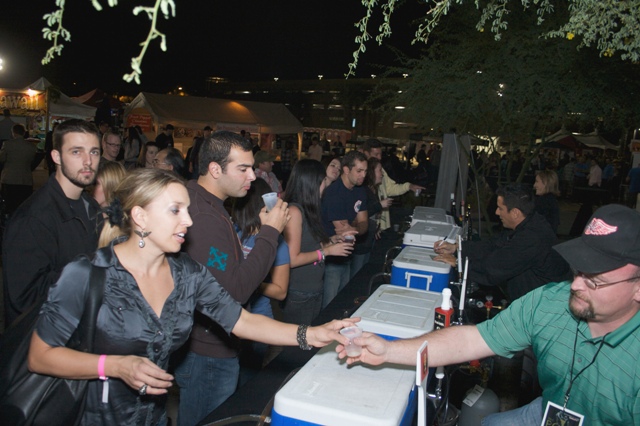 Where there is Pour there is pouring (most likely of something delicious), so we're game for any event called the Big Red Pour. On Saturday, Dec. 4, on the lawn of the University of Phoenix stadium, the craft beer and music festival will welcome more than 100 beer varieties to sample, including a few rare worldly options. In addition to beer, beer and more beer, the Big Red Pour will feature plenty of musical acts to entertain between sips.
Concert Lineup:
3-4:30 p.m. the elevens
5-6:30 p.m. Steve Ansel & the Jackson Street Band
7-7:40 p.m. Sludge (KDKB morning host Sludge built a band from hundreds of auditions of singers, guitarists, bass players and drummers Valleywide. Sludge's band debuts on the stage of Big Red Pour.)
8:10 p.m.-end Kenny Wayne Shepherd (Headliners)
To learn how to pair the beers at the Big Red Pour, local chefs will demo the best food and beer pairings on the Sub-Zero/Wolf Cooking Demonstration Stage. Schedule to appear: Chef Jason Choate, Chef Justin Piazza of La Piazza al Forno and Chef Brett Hoffmann of Haus Murphy's. Plus, to get you in a festive mood, there will be a Great Lawn Holiday Light Show, from 6 to 10 p.m., featuring more than 250,000 lights in the pine trees surrounding the Great Lawn. General admission tickets can be purchased in advance of the event date for $10 (plus fees) through Ticketmaster. Advance purchase VIP tickets are $35 (plus fees) which includes front-of-house concert seating (first come, first served) and a passport for 20 pours. A $5 discount coupon for advance purchase tickets online and at the University of Phoenix Stadium Ticket Office is available at all Albertsons locations while supplies last. Event day tickets prices are $15 (plus fees) for general admission and $37.00 (plus fees) for any remaining VIP seating. Beer passports for sampling will cost $7 for five pours, $12 for 10 pours and $20 for 20 pours.
Craft beer and beverage listing:
1554 Enlightened Black Ale
2 Below Winter Ale
Abbey Monk Ale
Alaskan Amber Ale
Alaskan Smoked Porter – 12/22 OZ NR
Alaskan White Ale
Alaskan Winter
Amber Bock
Blue Moon Belgium White
Blue Moon Spring Blonde
Blue Moon Winter Abbey Ale
Bud Light Lime
Bud Light Wheat
Coronado Islander Red
Coronado Mermaid Red
Coronado Orange Wilt
Deschutes Black Butte Porter
Deschutes Green Lakes Organic Amber Ale
Deschutes Iversion IPA
Deschutes Jubelale Seasonal Winter Ale
Deschutes Mirror Pond Pale Ale
Dos Equis Ambar
Dos Equis Lager
Fat Tire
Full Sail IPA
Full Sil Amber
Grand Teton Au Naturale
Grand Teton Bitchcreek
Grand Teton Howling Wolf
Killian's
Kona Longboard
Kona Pipeline Porter
Landshark
Leinenkugel's Berryweiss
Leinenkugel's Classic Amber
Leinenkugel's Fireside Nut Brown
Leinenkugel's Honeyweiss
Leinenkugel's Sunset Wheat
Lips of Faith – La Folie
Mike's Hard Light Cranberry Lemonade – 4/6/11.2 NR
Mike's Harder Black Cherry – 24/16 OZ CN
Mike's Harder Lemonade – 24/16 OZ CN
Mike's Margarita Classic – 4/6/11.2 OZ NR
Mike's Raspberry Margarita – 4/6/11.2 ON NR
Mike's Harder Cranberry Lemonade – 24/16 OZ CN
Newcastle Brown Ale
Peroni
Pilsner Urquell
Pyramid Apricot Ale
Pyramid Haywire Hefeweizen
Ranger IPA
Redhook Blonde
Redhook ESB
Redhook Winterhook
Sam Adams
Shock Top
Sierra Blanca Alien Amber
Sierra Blanca Alien wheat
Trippel Belgian Style Ale
Widmer Brrrrrbon
Widmer Deadlift