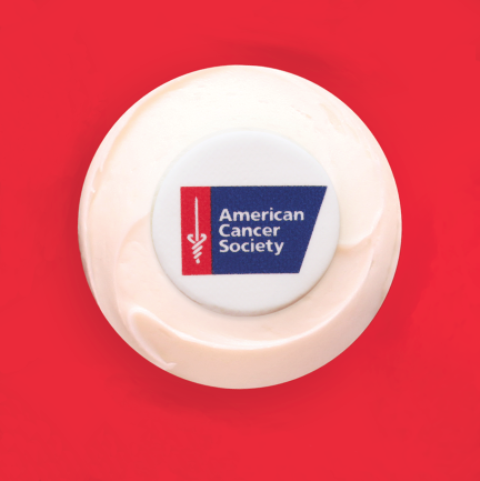 It's OK to forgo your get-skinny New Year's resolution (just for a little while!) for a good cause, right? Well, here's the just opportunity to take a little diet detour and indulge in some tasty cupcakes for an wonderful organization. Scottsdale's Sprinkles Cupcakes and FOX 10 Morning Show anchor Alexis DelChiaro have partnered up in order to raise money and promote awareness for the American Cancer Society. Through tomorrow, January 13th, 100 percent of the proceeds from the Sprinkles' Rock N' Roll Red Velvet cupcake, decorated with a navy and red dot, will go directly to support the American Cancer Society. "The American Cancer Society is a great organization and we are thrilled to help fund research for a cure," says Sprinkles President and Co-Founder Charles Nelson.
The American Cancer Society DetermiNation Team supports those that run in various events across the country to raise money. As part of the DetermiNation Team, Alexis is running the P.F. Chang's Half Marathon to raise money, in partnership with Sprinkles, to reach her goal of a minimum of $3,000. (The marathon takes place this weekend.) The ACS DetermiNation Team Members have opportunities to turn their passion for endurance events into a lifesaving adventure to fight cancer. "I am excited and anxious to run my second half marathon, but I feel extremely proud to do it for the American Cancer Society," says DelChiaro. "Fighting cancer will make every mile more meaningful, and I'll need all the motivation I can get to cross that finish line."
A longtime fan of Sprinkles' delish treats, DelChiaro is excited to have Sprinkles Cupcakes, The Original Cupcake Bakery, join her in the fight to defeat cancer and work to find a cure. "Apart from their popular desserts, Sprinkles is well respected for their philanthropic dedication," DelChiaro mentions. "The founders, Candace and Charles Nelson, are truly to thank, as their allegiance and passion are truly unparalleled." Sprinkles is no stranger to helping worthwhile causes: Part of Sprinkles' mission is to give back to the communities in which it operates. Each night, leftover cupcakes are delivered to food banks and police and fire departments. Additionally, Sprinkles donates 100 percent of the proceeds from designated charitable cupcakes such as its Pink Ribbon strawberry and Earth Day vanilla each year to benefit local children's hospitals, environmental care organizations and social service agencies. In total, Sprinkles has donated more than $1.2 million dollars in cash and product nationwide since 2005. 4501 N. Scottsdale Rd., Scottsdale, 480.970.4321, www.sprinkles.com.