Happy Valentine's (Single's Awareness) Day!
We are recapping all the lovely stays over the past week so you and your beloved have a plethora of options to peruse if you haven't found a place to dine or stay, or just want to take a peek at what some local and national resorts are offering this year.
First up, Kimpton's Hotel Solamar in San Diego is making it easy to Love, Play, and Dream this Valentine's Day. Not only are they offering a fabulous package throughout the end of the month, but their adjacent restaurant, Jsix, is offering guests more than one chance to take advantage of the romantic day, with 4 days of Valentine's Day. The Love, Play, Dream Package features:
Beautifully appointed Spa King accommodations
$100 food and beverage credit to be used in our Jsix Restaurant for Valentines' Day. Enjoy a four-course menu for $75 per person on Feb. 14, or a four-course menu for $50 on Feb. 15-17.

Champagne and chocolates upon arrival
Morning coffee and tea service in living room, hosted evening wine reception in living room, 24-hour access to in-house fitness room, and for Kimpton InTouch members wired and wireless internet access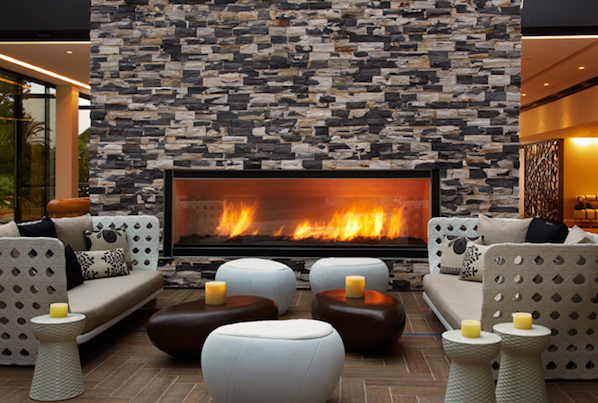 Hotel Salomar's sister hotel, Hotel La Jolla, is also offering a splendid retreat. The hotel opened its arms to a partnership between Ménage à Trois wines, offering guests a seductive experience for Valentine's Day. Hotel La Jolla has included a choice of a California red, layered with delectable blackberry and raspberry jam flavors, or a California white, crisp and exotic with tropical fruit flavors, in this special promotional package which includes:
Choice of a Bottle of Red or White "Ménage à Trois" wine
Temptation Intimacy Kit
Complimentary nightly hosted wine hour (5 – 6 p.m.)
A $20 Breakfast Credit for a scrumptious morning meal at Cusp, the hotel's 11th floor restaurant
$10 Mini-bar Credit
Rose Petal Turndown
Chocolate Covered Strawberries
An In-Room Movie
Bottle of Champagne or Sparkling Cider
For more local fare and romantic getaways, stay at Montelucia Resort and Spa or Camelback Inn
Montelucia launched ''Mi Amor, Montelucia," a series of room packages, delectable eats, spa specials and enticing events to celebrate this season all month long. Or, for those single ladies looking to avoid the dreaded Valentine's Day, Montelucia invites guests to throw those gushy feelings right out the window. Whether you're with your beloved or best gal pal, these packages and exclusive offers will have you swooning. See all the details here.
Head over to Camelback Inn for a Spatacular day. W Marriott Camelback Inn spa package features a rose scented sea salt body scrub that exfoliates the skin while improving circulation, followed by the gentle 'rain' of the Vichey shower.  Next, indulge in a one hour facial featuring the aromatic essence of roses and benefits of glycolic acid soothes the skin, leaving it dramatically softer, smoother, and more luminous.  The luxury doesn't end there – after the treatments, enjoy a sparkling cocktail of Rose Nectar with Chambord Raspberry Vodka along with a gift of a Rose Quartz heart (1.5 hours $230.)
To learn more
Follow us on Twitter for up-to-date news and specials. And have a wonderful day of love!