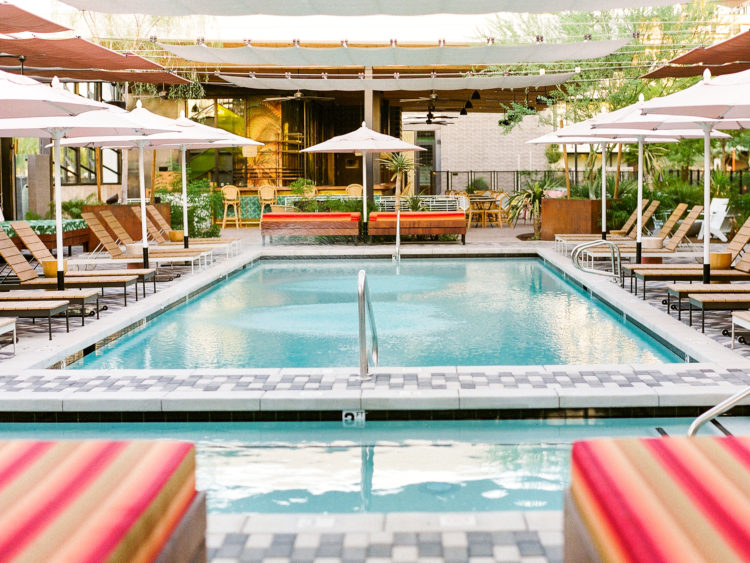 Rise Uptown, formerly ARRIVE Phoenix, is set to open its doors on Saturday, June 6, including a brand new penthouse lounge.
Spanning two restored mid-century modern towers, the $25M boutique hotel takes its name as a nod to its 400 W. Camelback Road location in the heart of Uptown Phoenix.
Designed to feel a little like home, a little like vacation, all 79 rooms at Rise Uptown boast king beds with 100% Egyptian cotton linens and a striking and spacious tile shower with imported Tyneham bath products. Additional locally-crafted touches include custom vanities and wardrobes by Urban Plough, concrete sinks by Slabhaus and stylish, mid-century-inspired fireplaces by Modfire in select rooms. A record collection curated by local institution Stinkweeds is available for guests to cue up on their in-room record player.  
Rise Uptown also features on-site dining, drinks and amenities such as …
Don Woods' Say When The property's new rooftop lounge is perfect for daytime poolside soirees and sunset rooftop cocktail parties with reimagined cocktails by Ross Simon of Valley favorites Bitter & Twisted Cocktail Parlour and Little Rituals.
The Pop Stand Upon arrival at check-in, guests can enjoy a welcoming gift of handcrafted paletas-style popsicles including fresh fruit and luxurious cream to even favorite booze flavors.
Cartel Uptown Phoenix Housed in a sleek 600 sq. ft. space fronting Camelback Road, Cartel Uptown Phoenix offers fresh baked goodies and grab-and-go meals, plus a full coffee program, complete with single origin beans, canned cold brew and more.
Lylo Swim Club Enjoy craft cocktails and canned craft beers and wines, paired with Asian-influenced chef-crafted fare at this stunning mid-century style poolside bar.
For more information, please visit www.riseuptownhotel.com.
Photos: Studio Alcott