After the presents are opened and the carols are sung, families are invited to feast at The Westin La Paloma Resort & Spa on Christmas Day. Evoking warmth, nostalgia and togetherness, AZuL Restaurant will be serving a robust menu of inviting flavors and rich dishes quintessentially festive. Travelers and locals can enjoy an elevated meal amidst the sound of fanciful tunes performed by a live band.
With AZuL Restaurant & Lounge decorated to the nines with holiday splendor, diners can revel in the cheerful atmosphere, including the majesty of the surrounding Santa Catalina Mountains. The 24-foot golden barrel cacti tree will serve as icing on the cake as guests indulge course-by-course to epicurean euphoria.
The meal starts with a myriad of dynamic salads that prepare the palate for what lies ahead. An impressive carving station features a classic holiday ham with tantalizing brown sugar whole grain mustard glaze, sage brushed turkey with giblet sauce, cranberry-orange relish, and slow roasted prime rib with creamy horseradish. Winter staples such as toasted almonds, pomegranate and citrus top roasted salmon and chicken breast while spiced yams receive a layer of lightly toasted marshmallows for everyone's favorite pseudo-dinner side dish.
The feast's lavish dessert spread invites diners to indulge with unique takes on the classics such as egg nog panna cotta, bouche de noel, gingerbread bread pudding and praline pie bites. Ensuring everyone's sweet tooth is satisfied by the end of the evening, some alternative options such as key lime tartlets, tres leche cake and red velvet cupcakes will be served.
View the full Christmas Day Buffet menu below: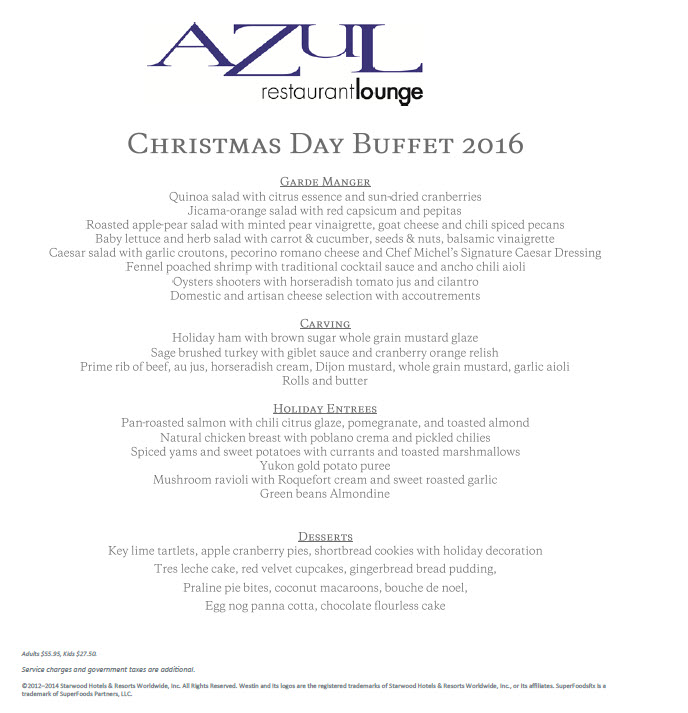 Resort guests and locals are invited to bring friends and family together on Christmas from 11:00 a.m. to 5:00 p.m. All diners are required to make advanced reservations via credit card by calling 520.742.6000 ext. 5868.
The price runs $55.95 for adults and $27.50 for children 6 to 12 with an 18% service charge. For more details on The Westin La Paloma Resort & Spa or AZuL Restaurant and Lounge, visit www.westinlapaloma.com or call 520.742.6000.
The Westin La Paloma is located at 3800 E Sunrise Dr, Tucson, AZ 85718.