Things are looking shiny and new at JW Desert Ridge, as they announce the near completion of new amenities and enhancements. Totaling $8 million, the resort added in 2018 its new Griffin Bay, an exclusive poolside retreat; 12 luxury cabana cottages; new fitness amenities, 12 new pickleball courts; and six soon-to-debut pool suites which are nearing completion.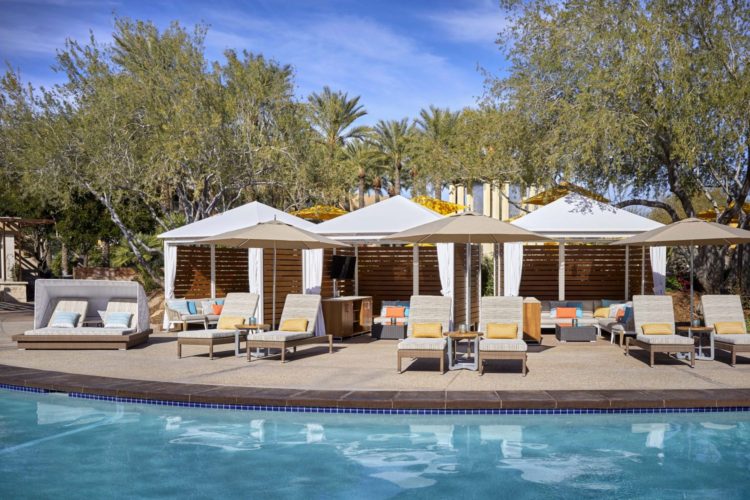 Pool Suites
With construction beginning in late October of 2018, the six new pool suites are located by the entrance to, and overlooking the resort's popular 1,600 linear foot Lazy River. The suites will be approximately 500 square feet and will feature an air-conditioned, indoor seating area with a flat panel TV, private half bath, wet bar, mini-refrigerator and safe. Each suite will also have an exterior patio with a ceiling fan, misting system, flat screen TV, privacy drapes and soft seating similar to the resort's new luxury cabana cottages at Griffin Bay. The new pool suites are replacing what used to be the poolside fitness center.
Griffin Bay
This exclusive poolside retreat is located within the main pool complex and features its own concierge, personal attendants, enhanced food and beverage offerings and VIP seating. Griffin Bay offers a selection of luxury lounging options including covered and uncovered daybeds, plush chaise lounges and the 12 new cabana cottages available for full day rental.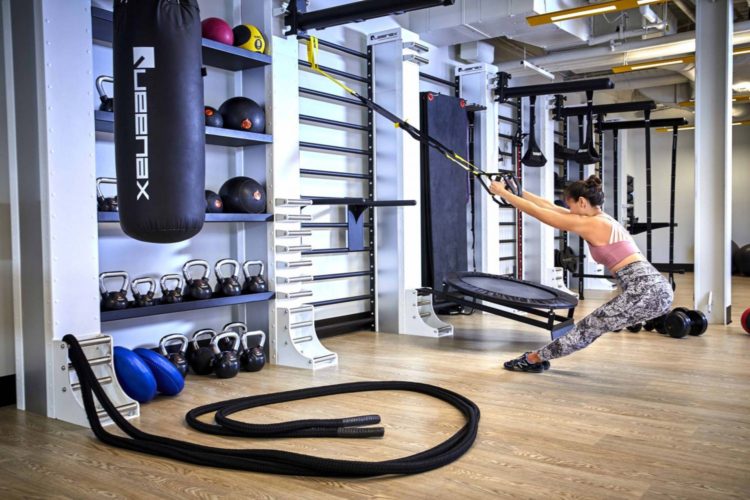 Luxury Cabana Cottages
Considered one of the Valley's top poolside retreats, the resort added 12 private cabana cottages in 2018. The 120-square-foot covered cabanas feature cushioned chaise lounge and sectional sofa seating, a cooling misting fan, refrigerator with complimentary bottled waters, towel service, a digital safe, private television with DIRECTV and complimentary WiFi so guests can stay connected. Each cabana has its own private attendant.
New Yoga Lawn, Movement Studio and Fitness Center
The resort's Revive Spa expanded its fitness center to almost 3,500 square feet adding all new Life Fitness exercise machines, six new Peloton spin bikes and cardiovascular equipment complete with WiFi capabilities and TV screens. An 870-square-foot movement studio was also added and expanded that includes a Precor Queenax wall unit with TRX capability. In addition to personal trainers, the movement studio features Fitness on Demand videos with JW Wellness Ambassador Nora Tobin. Just outside the fitness center, the spa's new 600-square-foot yoga lawn, lined with artificial grass, overlooks the resort's 21,000-square-foot Chef's Garden and is able to accommodate group yoga classes in season.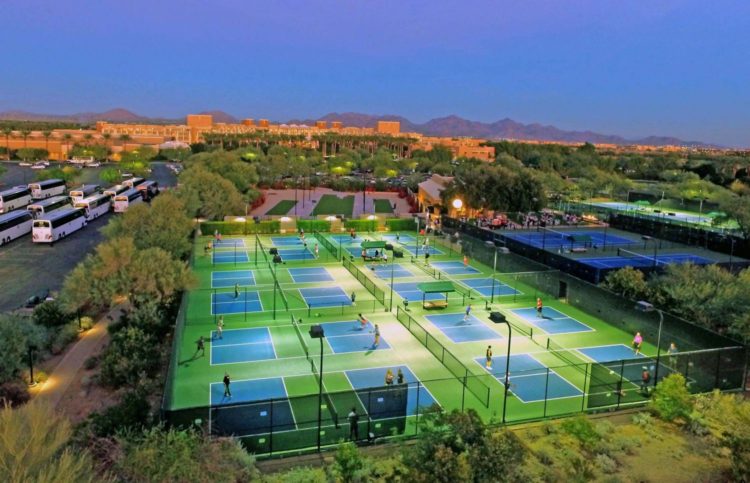 New Pickleball Courts
Noted as the only resort in Arizona that offers 12 pickleball courts, the resort's racquet center replaced three of its eight tennis courts with 12 new pickleball courts. The racquet center has also added pickleball gear and accessories to its pro shop as well as a full time, certified pickleball instructor. A variety of packages can be tailored for leisure guests and team building events, and the courts provide a picturesque outdoor venue for private buyouts and special functions. The resort's culinary team also created a menu of pickled specialties that can be sold in conjunction with in-house groups for breakout sessions, receptions or pickleball challenges. Additionally, the SSIPA (Super Seniors International Pickleball Association) now hosts annual tournaments on property.
For more information, visit: jwdesertridge.com