Keeping your fitness routine in check can be difficult when holed up in a hotel. Even the nicest resort gyms are well, still hotel gyms. So why not stretch your legs and explore the city? W Scottsdale is letting guests do just that with their newest Be-Spoke Cycling Program.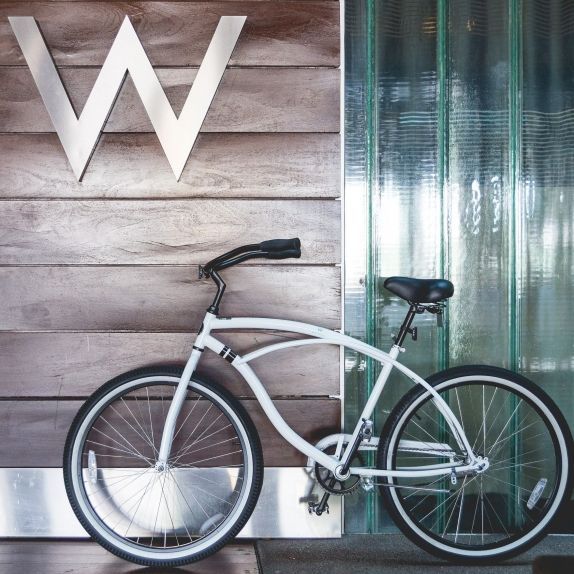 "As an avid cyclist, I was blown away by the incredible routes and breathtaking terrain I found while exploring Scottsdale by bike. We wanted to bring this same experience to our guests while giving them the inside track on some of the city's best sights and experiences easily accessed via bike," said W Scottsdale General Manager David Cronin. "With so many luxury travelers prioritizing wellness, the Be-Spoke cycling program allows guests to keep their fitness goals in check, while seeing more of what Scottsdale has to offer."
The new fitness-focused amenity includes a fleet of bikes that are free for guests to use. But don't cycle aimlessly; the hotel is providing riders with customizable solo itineraries and engaging group rides, led by the hotel's in-the-know staff, on your own or with W Scottsdale's very own general manager! Cruise around Old Town Scottsdale or cycle your way to a nearby hike. The hotel will even equip riders with water and snacks before they head out on the town.
Be-Spoke Cycling Tours
Spin & Savor: This food-driven progressive cycling tour includes pre-mapped stops at Downtown Scottsdale's best dining venues, from creative craft bars to mouthwatering BBQ restaurants, ice creameries and craft breweries. Yum!
Bike & Hike: Conquer Scottsdale's best hikes without fighting for parking. This custom itinerary includes a cycling map to some of the area's best nearby hikes, from Camelback Mountain to Echo Canyon and more, with routes ranging from 5 to 10 miles round-trip.
Wheel & Deal: "Friends with benefits" takes on a whole new meaning with this custom itinerary. Score discounts at one of Scottsdale's hottest fitness studios, Scottsdale BODI – just by showing up on a W Scottsdale "Be-Spoke" bike. Talk about a fitness win-win.
Tour de Scottsdale: For the ultimate "Be-Spoke" experience, the hotel's general manager, an avid cyclist, will personally lead Tour de Scottsdale rides to show guests the best bike routes with scenic pit stops along the way (available on a limited basis).
For more information, visit: wscottsdalehotel.com/fuel