I have a few friends and relatives who, when I walk into their homes, every book, paper and pen has its own perfect spot, and I am simply in awe of their organizational touch. Such a meticulous home almost makes me feel as if I have walked into an open house, rather than a simple dinner party or get together. I long to be this organized and on top of my clutter situation, but there just always seem to be those household items that never find their perfect home. After browsing many of Suite New York's organizational systems, I think I may have found some perfect clutter solutions for various rooms in my home.
I absolutely love this 606 Organizational System, designed by Dieter Rams. This modular system can be finished in either anodized aluminum or painted white, and is comprised of hanging flat or inclined shelves along with upright elements, two or three drawer units, garment rods under the shelves and cabinets with flap-down or retractable doors. This seamless and functional shelving system has endless storage opportunities and would go perfectly in a large home office or living room. While books line the shelves in this photo, it would also look great to alternate with colorful candles and framed photos.
The big organizational issue in my home is all the excess paper items I can't seem to find the right spot for: magazines, bills, To-Do lists, etc. These Finder Racks, designed by Xavier Lust, are the ideal way to store my miscellaneous documents and mags. They hang on the wall, so you don't need to take up any extra space on the floor or kitchen counter, and are available in stainless steel or white lacquered. I love the stainless steel option, since it allows you to write notes directly on the rack with removable ink. The white lacquered versions are magnetic, making for easy installation.
Not only is this Horizontal Sliding Door Cabinet a work of art, but it's also a practical shelving unit that would fit in seamlessly over or next to a flat-screen TV to house DVDs or other entertainment items. Designed by Shigeru Uchida, the storage unit mounts on the wall and offers the convenience of sliding metal doors that slide open in both directions. The units are finished in either natural oak or wenged oak with a protective wax finish, while the sliding metal doors are available in a variety of flossy or matte lacquers.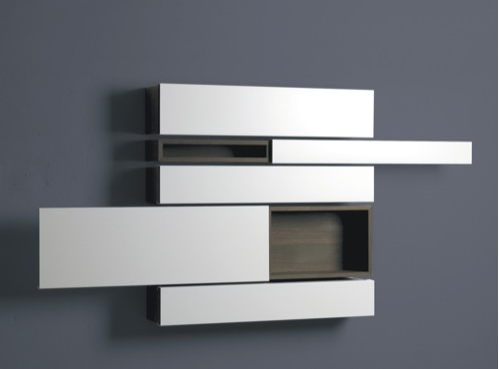 For more ways to organize your home with Suite New York, visit http://www.suiteny.com.