I am in the midst of trying to purchase granite countertops for my kitchen (the mint green 1974 originals have to go by April when I have a slew of house guests coming.) Now I would have though that buying granite would be easy, but all the granite yards are in the middle of nowhere, then i need to find a fabricator to turn my big piece of rock into counter tops, then I need to have someone install it. Well, I ' have the time to run around doing these things, so when i say this "mobile showroom" idea, I could actually see how useful it might be for busy people who need a renovation.
Entrepreneur and designer Bill Walker states that he created the mobile showroom to make life more convenient for clients and to give businesses the opportunity to showcase their goods in a unique, luxurious setting that takes customer service to a new level. This is the world's largest mobile showroom concept available on the market.
"If you're not in the customer-service industry in these tough economic times, you will simply lose the race! It's all about service," Walker states.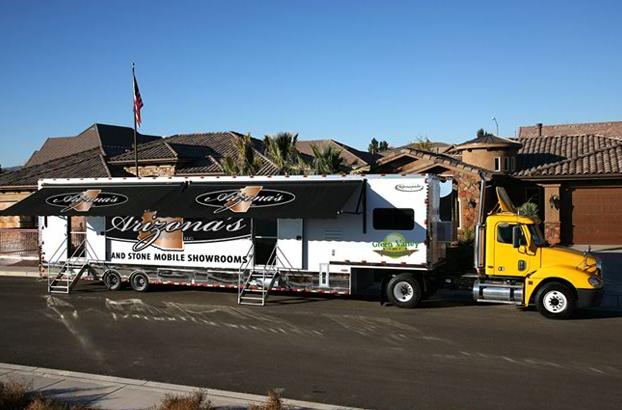 The company, America's Mobile Showrooms, designed its first 1,000-sq.-ft. retail mobile showroom to showcase home remodeling and construction products. This pilot showroom has hardwood floors, overhead lighting fixtures, a custom-built library designed to display/archive products and an outdoor veranda.
It currently holds over 2,000 tile, stone and other flooring samples as well as designer-cabinet displays from which builders or prospective clients can make their selections in a custom-designed environment that comes to them.
I would be so happy if this showroom showed up on my driveway and I could pick my granite in my pajamas. Walker says that consumers average 6.4 trips to a design showroom per purchase decision when building or remodeling, which I can attest is correct. This idea saves loads of time – and gas.
Right now Walker is franchising his concept. He will offer franchisees several custom design options and configurations. In addition, the mobile showrooms can be ordered with expandable sides, two stories with entertainment decks, or even interactive skate parks or sports memorabilia headquarters for professional athletes and celebrities.
I honestly think this is a great idea for the consumer, the builder and the home decor and materials sales people who need to get out there to the actual site to make a sale these days. To view more of the showroom, go to http://americasmobileshowrooms.com