If you've got a lot of land and are still contemplating what to build on it, a California-based architecture firm just might have the goods your looking for.
The architectural design firm 5 Elements Design has launched their first three semi-custom stock home plans, designed to be eco friendly, lower energy costs, and allow families to benefit from a custom house plan without the cost of an architect. The firm is concentrating on small house plans from 500-1500 square feet in response to the increased desire of homeowners to downsize while still retaining all the function of a larger home.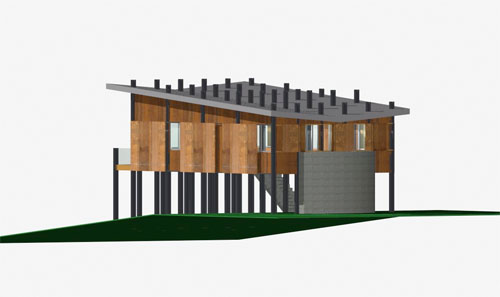 Partner and co-founder Misty Weaver says, "Our clients really want to live smaller, but they aren't interested in giving up their family rooms, or storage. We are focusing on designs that feel bigger than they are, and incorporating built-ins and other design features that make room for realistic family living."
You won't see the traditional ranch and colonial designs available on most house plan websites. Each house plan is designed around one or more of the natural elements found on Earth, including water, fire, and wind, to take advantage of geographic topographies and incorporate energy saving design into each home.
The Mod consists of three different modules, the living, sleeping and bedroom suite, which can be combined in many different configurations to meet the needs of a growing family. The Stilts combines the style of a modern beach house with an eco friendly butterfly roof and rain cistern to conserve water usage. The Introvert takes the idea of a hacienda and marries it with a traditional roman home with central courtyard that allows every room to open onto each other to take advantage of passive heating and air circulation. The designers have tried to maintain traditional lines outside the homes with a modern edge to attract more conservative home builders.
Each house design includes a range of energy saving elements such as solar panels, rain cisterns, green roofs, trombe walls, passive heating and cooling, and recommended energy star appliances. Included with the house plans is a list of recommended building materials to help those clients that don't have the time to research products on their own.
5 Elements Design believes that eco friendly design should be accessible to everyone, not just families building on a large budget. House plans range from $995 to $1995, and custom home design is available.
To learn more, visit www.esmallhouseplans.com