If you are anything like me, hearing the word "green building" generally brings to mind a picture of a minimalist aesthetic with an emphasis on modern design. This has been one of the difficulties I've had with incorporating green design into my own home (which boasts more of a Tuscan-style appeal). The challenge lies in mixing style elements in order to create a uniform look. This home is located in the New Mexico community of Las Campanas and couldn't be a more perfect model for the potential within green design. It has surely opened up my eyes to the possibilities that are available with just a little bit of research. There is nothing modern looking about this beauty.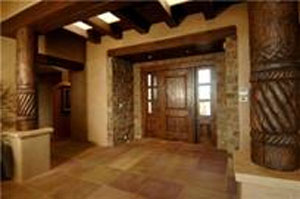 Address: 45 Paseao Aragon.
Community: Las Campanas.
Location: Just outside Santa Fe, New Mexico.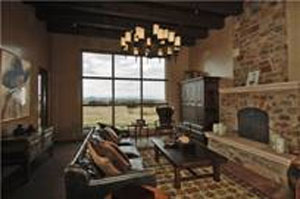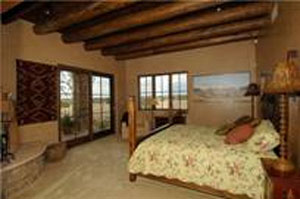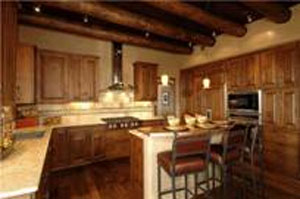 The home proves that true green design lies from within, in places that are not necessarily apparent to observers at first glance.
This 3,600 square foot adobe-style home epitomizes sustainable, elegant desert living – and operates 30% more efficiently than a traditional house.  The home operates as such by seamlessly incorporating a state-of-the-art solar heating system and sprayfoam roof and insulation, you'd never know that 45 Paseao Aragon has the smallest carbon footprint on the block.
Skylights illuminate the entryway, shedding natural light on hand-hewn wooden beams and columns.  The front door is encased in stonework, a combination of old brick and river rock.  Expansive floor to ceiling windows and high, beamed ceilings allow unobstructed views of the Jemez Mountains, bringing the outdoors inside.  The stunning landscape seems like a work of art in and of itself.
The home's authentic Southwestern style extends to all three bedrooms, including a master suite with fireplace.  Each bedroom boasts intricate, hand-set stonework and luxurious amenities.  The spacious gourmet eat-in kitchen features its own pizza oven.  A generous family room and study provide ample space to work and play.