I have always desired to live oceanside. However, with my desert commitments it doesn't seem I'll be getting my water vista anytime soon. As an ASU alum, I was always fond of the proximity of Tempe Town Lake to Arizona State's Tempe campus. Although I didn't make use of the facility during my college years, it was always nice to drive or walk around the lake and take in the views.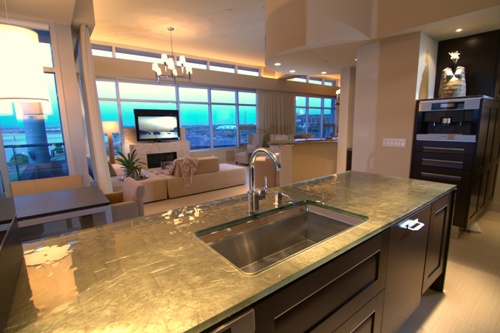 Bridgeview at Hayden Ferry Lakeside is a luxury, mixed-used development positioned near the south shore of Tempe Town Lake. Exuding a unique oasis of blue in the Sonoran Desert and with stellar views, Bridgeview at Hayden Ferry Lakeside encompasses 104 elegant condominiums, a 12-story tower surrounded by contemporary residential, retail and office buildings inspired by the dynamic, urban centers of Vancouver, British Columbia.
The 3,200 square-foot penthouse at Hayden Ferry Lakeside showcases the latest trends in high-end, luxury residential by encompassing design elements from New York, Dubai, Tibet, Italy and around the world. More than $600,000 in furniture, textiles and upgrades have been added to the $2.9 million penthouse. 
One of the greatest aspects of Bridgeview at Hayden Ferry Lakeside is that it was designed as a live-work-play community. Residents take advantage of a variety of on-site luxury services and lakeside recreation opportunities. In the center of it all, residents have convenient proximity to Mill Avenue and downtown Phoenix entertainment. The development's location along the south shore of Tempe Town Lake is near the geographic center of metropolitan Phoenix, where more than 2.2 million people boat, fish and attend concerts and a variety of special events each year. On top of the fact that the lake attracts locals and residents, Tempe Town Lake is also Arizona's second most visited destination, second only to the Grand Canyon.
In addition to living in the lap of luxury, residents also have access to retail offerings  at Hayden Ferry Lakeside. Segway of Tempe will become the second Segway dealership in the Valley and one of only three in the state when it opens this month. For guests of the area unfamiliar with Tempe, the Segway dealership will provide 90-minute Segway Personal Transporter tours of Tempe Town Lake. City Market and Deli opened in May and provides gourmet New York style sandwiches, a fresh salad bar and more than 300 varieties of high-end wines and beers. And Knoll, Inc., a worldwide leader in the design, manufacture and distribution of branded furniture and textiles, will expand its space by 70 percent when it relocates to Tempe this summer. Hayden Ferry Lakeside will be home to one of only 20 Knoll showrooms in North America. 
To Learn More about Bridgeview and Hayden ferry Lakeside, visit www.suncorAZ.com.