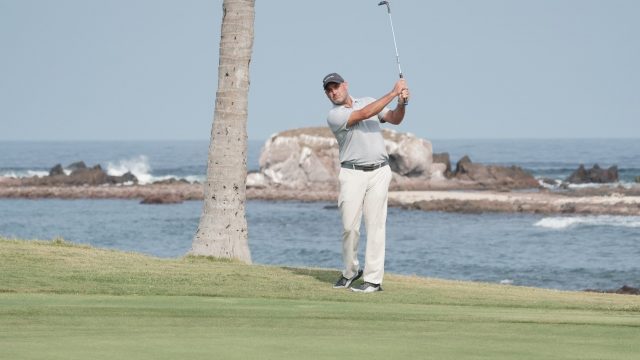 Tom F. Stickney II is the Director of Instruction and Business Development at Punta Mita, in Puerto Vallarta, Mexico. Punta Mita is a 1,500-acre golf and beach resort located 45 minutes from Puerto Vallarta on a beautiful peninsula surrounded by the Bay of Banderas on three sides. Amenities include two Nicklaus Signature golf courses with 14 holes directly on the water, a golf academy, four private beach clubs, a Four Seasons Hotel, a St. Regis Hotel, as well as multiple private villas and homesites available. Read on to learn about one of the most common problems in golf.
The most common problem in golf is when the player comes "over the top" or transitions the club shaft over the top of where it started at address giving us the dreaded out to in golf swing.  Whenever this happens, you are left to hit big pulls or slices into right field. Here is a simple way that you can avoid this issue with another downswing thought.
When you get to the top, your center of gravity shifts your rear foot for most players. From there, the key is to allow the CG to move into your forward toe so the rear shoulder can lower during the transition.  Whenever the CG fish-hooks into the forward heel during the transition your rear shoulder will tend to come out and over.  Control where your center of gravity goes from the top, and you will never come over the top again.
For more information regarding Punta Mita, golf outings, golf schools and private lessons, e-mail tom.stickney@puntamita.com.