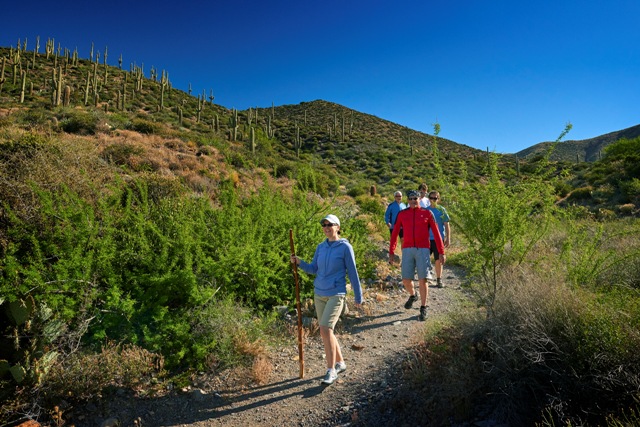 More than 12,000 hikes are taken a year on the beautiful 15-mile trails system consisting of seven trail segments at Desert Mountain Club. The Desperados, members of the Desert Mountain community who raised the money to build the trails, have announced the installation of an innovative Interactive Trail Guide that is taking the hiking experience at Desert Mountain to the next level.
The Interactive Trail Guide is a ruggedized and weatherproof 55-in. touch-screen monitor that is mounted on the trailhead restroom's shady north side. Hikers are able to select a hike by distance, view a customized map and send it to their mobile device. Or, they can select a hike that leads them to Desert Mountain's highest elevation, view the customized map and send this to their mobile device. Twenty of the most common routes and accompanying GPS data are pre-loaded into the system to assist in selecting each person's ideal hike.
"When designing the guide, I felt like a kid in a candy shop because the technology, the richness of our trail data, and the demands of our users, allowed us to be the first of its kind to broadly offer such a tool," says Desperados member, Craig Mitchell.
The Interactive Trail Guide also has the capability to check current weather, view an informative species guide, scan interesting facts, and recommend specific hikes. Photos submitted by members from recent trailhead events will also be on display as well as information about the Desperados.
This new Interactive Trail Guide democratizes the trail system with the touch of a finger on the digital flat screen, says Desperados member Troy Gillenwater. "Today's hiker, without ever having stepped a foot on our trails, is able to sort and choose the ideal hike based on either distance, time, or elevation gain by using our digital guide." –Jennifer Sturgeon