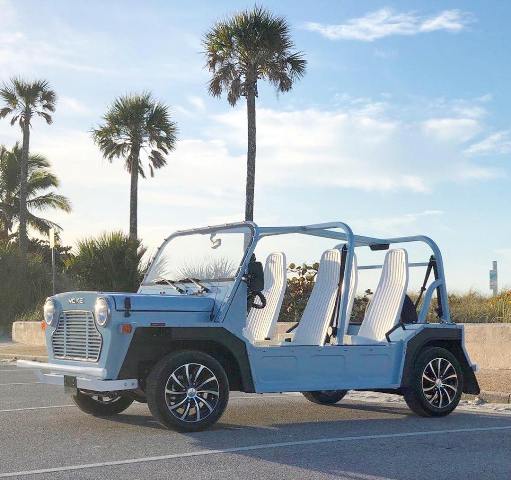 If you're a dweller of Arcadia or Silverleaf, you might have seen these cuties zipping through your neighborhood. But what are these itty bitty buggies?
Moke (rhymes with "bloke") is an eco-friendly vehicle that has been dubbed the "Ultimate Neighborhood Exploration Vehicle." This 20th-century collectible car (it has been around for 60 years and was driven by stars like Brigitte Bardot and Hunter Thompson) has been reinvented with 21st-century carbon-free electric power. It can seat up to four passengers and can be driven on roads with speed limits of 35 miles-per-hour in Arizona. Plus, this updated version has more legroom, expanded trunk space and a sweet sound system, making it the perfect buggie for school pick-up or grocery-store runs. The Moke comes standard with a battery that is fully chargeable in eight hours from any outlet.
They're not only efficient, they're good-looking, to boot. It comes in nine colors: white, black, blue, green, pink, orange, red, yellow and a Special Edition camouflage. Celebs like Kris Jenner, Jay Leno, Baron Davis and DJ Khaled have been been spotted with a Moke.
Did we mention Moke was available exclusively in the USA? A Phoenix dealership, AZ Moke America, recently opened so purchasing a street-legal Moke is a breeze.