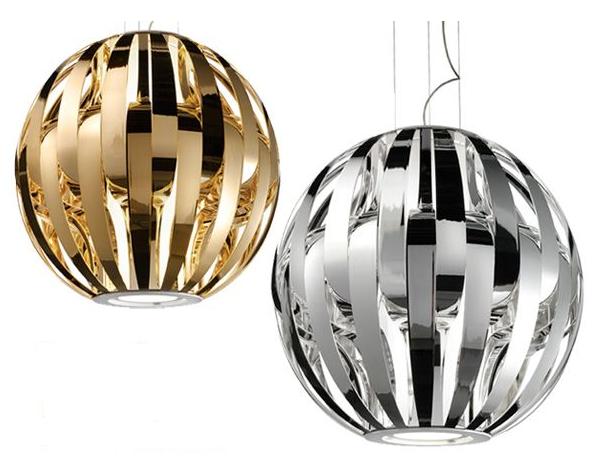 I just get the song Ballroom Blitz in my head when I look at the UFO Collection by Brian Rasmussen for Studio Italia Design. I want one in every room of my house.
Glitz and glam illuminated. The UFO chandelier with a curvaceous and sculptural shape is a mix-and-match tour de force. Providing the ideal amount of diffused lighting, the UFO is available in gold, silver or white acrylic with the choice of semi-covering colors in red, white, green and dark blue. As a completely customizable fixture, one can create their own distinct pendant combining all or any of the available colors as they see fit. The UFO was designed by Product and Lighting Designer Brian Rasmussen for Studio Italia Design.
Studio Italia Design is the premier designer and producer of decorative lighting fixtures for the high-end architectural and designer markets. Based in Venice, Italy, the company is renowned worldwide for its high quality lighting systems and its ingenious design creations and has been practicing their art for over 60 years. Studio Italia Design has created over 500 styles in over 50 colors and finishes. Their unique manufacturing process features hand-blown glass by Murano artisans with the inclusion of custom metals. Products by Studio Italia Design are available throughout North America via a network of select showrooms. All products are designed, produced, assembled and packed directly by Studio Italia Design ensuring the highest levels of quality and attention to detail.
To find out more and get your own super glitzy chandelier, visit www.studioitaliadesign.com.