While a long, drawn-out bath is a luxury in and of itself, a bathtub design firm is turning this relaxing past time into a work of art.
Six Eleven Architectural Bath Design has been perfecting the high-end, customized bathtub arena for over 40 years. Through the clean lines and curves of their creations, Six Eleven Architecture demonstrates that there are no limits to bathtub design.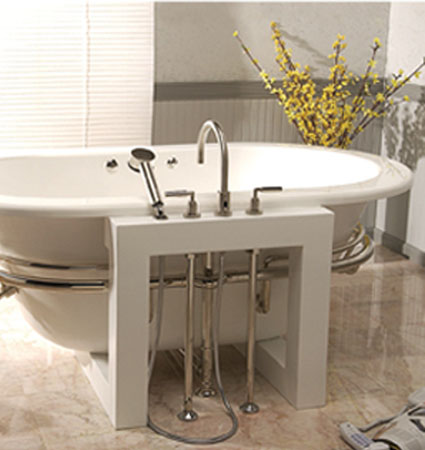 George Gruber, owner of Six Eleven Architectural Bath Design is noted as an artist and Renaissance man. Gruber creates bathtubs for designers and homeowners who want the ultimate in personalization and customization. During his illustrious career – now spanning 40 years – he has created customized bathtubs in Wedgwood china patterns, Japanese soaking tubs, which can accommodate up to seven people, bathtubs crafted from glowing cultured serpentine onyx – and an infinity tub for a five-star San Francisco hotel's penthouse that when placed before a floor-to-ceiling glass window allows guests to see the entire city as they bathe, and the water appears to cascade over the edge to the streets below.
At present, Gruber's Six Eleven is the one of the few manufacturers in the world in customizable luxury bathtubs offering over 100 tub shapes and sizes, and with unlimited latitude to what they can do. Regardless of pattern or texture, in fur, leather or with inlaid stone – Six Eleven demonstrates that a bathtub can be massaged into whatever the end user wants. In addition, these impressive bathtubs come with a 20-year warranty.
"I'm a dreamer, and I build bathtubs. I create things for people that they thought could have never existed. I am the extension of the designer who wants to take their project to the next level," Gruber said.
Gruber began his foray into customized bathtub manufacturing in 1959. Since then, he has tackled the scientific principles of what constitutes the perfect bathtub composition and has introduced to the market a material that retains heat better than any other found. This element is cast polymer, which is a combination of finely ground pure calcium carbonate, fiber reinforcement and quality polymer resins that offers the ultimate in thermo-insulation and malleable modification. While working at his family's Gruber Systems, which provided tools and complex molds to over 150 national manufacturers, he began experimenting with cast polymers on Hollywood movie sets. He then moved into the home design business where he constructed countertops and later custom bathtubs for the multi-housing industry. Before long, he was taking on large-scale hospitality projects including the creation of tubs, showers and countertops for over 10,000 hotel rooms for a massive Las Vegas hotel brand. His designs are a truly a stylish way to sit, soak and be merry.