Swarovski crystals are well-known for their famous celebrity style and partnerships with design talents such as Armani, Versace, Gucci, Prada and now, Napoleon Fireplaces! The LHD50 Limited Swarovski Edition fireplace makes staying home feel like a glamorous red-carpet affair. The ember bed is filled with authentic Swarovski crystals that captivate and glisten in the flames.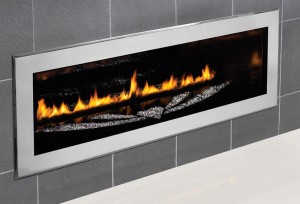 "The Swarovski fireplace is like no other fireplace on the market," said David Coulson, National Advertising Manager with Napoleon Fireplaces & Grills. "This fireplace is evidence of Napoleon and Swarovski's shared passion for cutting-edge technology, contemporary design and artistic craftsmanship," he added.
The LHD50 Limited Swarovski Edition fireplace comes complete with a bed of authentic precision-cut Swarovski crystals. The light from the perfectly-polished crystals is reflected in every direction through Napoleon's exclusive CRYSTALITES that light the Swarovski crystals from below.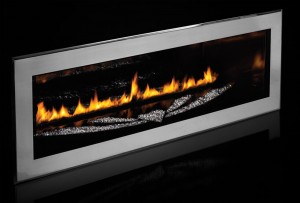 The innovative and elegant new fireplace has an innovative 'necklace' tray design that keeps the crystals in perfect display arrangement. The Swarovski logo is finely etched into the fireplace glass and the unit comes with a certificate of authenticity. The Swarovski edition is available in a one-sided or two-sided unit, making it perfect for almost any room.
Napoleon's LHD50 Swarovski edition is ideal for residential or commercial spaces that want to make a definite statement. This limited edition fireplace adds to an impressive lineup of Napoleon fireplaces already available to consumers, builders, designers and architects.
For additional information on Napoleon's Limited Swarovski Edition fireplace, please visit: www.napoleonfireplaces.com.
About Napoleon Fireplaces & Grills
It all began in 1976 when a small steel fabrication business launched by Wolfgang Schroeter started manufacturing steel railings in Barrie, Ontario, Canada. At that time, no one could imagine the incredible future that lay ahead for Wolf Steel Ltd. and eventually Napoleon® Fireplaces and Napoleon® Gourmet Grills. Since the first wood stove rolled off the production line over 30 years ago, Wolf Steel's commitment was to be distinctive and successful in everything they do. The Napoleon's commitment to producing quality products combined with honest, reliable service has proven to be a successful framework to ensuring the continued rapid growth of the company. Napoleon® is an ISO9001 – 2000 registered company and now operates with 500,000+ square feet of manufacturing space and over 500 employees. We are North America's largest privately owned manufacturer of quality wood and gas fireplaces (inserts and stoves), gourmet gas and charcoal grills, outdoor living products and waterfalls.