Just north of Cambria, California, a remarkable residential property has been unveiled after fourteen years of construction. Built by Khosro Khaloghli, one of real estate's most influential developers, this palatial 35,000 square foot home sits on 80 coastal acres and features a breathtaking level of opulence and scale. Luxury finishes, fine art murals and painted ceiling domes, marble statuary and custom furnishings complement the spectacular classical architecture of this Venetian-style wine country estate.
The estate's other amenities, include helipad, guest house, caretaker's house, administration building and the new automotive pavilion, an imposing structure designed to display up to thirty vehicles from the owner's car and motorcycle collection, and also house visiting helicopters. An observation tower and penthouse apartment rest atop the new building. And of course there are the wine cellars, double decker closets and art collections a castle must have. Canary Island palm trees and rows of maturing Pinot Noir vines surrounded the terrace, adding that Mediterranean wine-country atmosphere.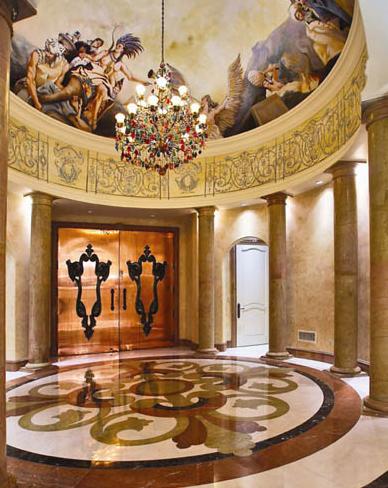 The home is availabel for viewing at www.goldencoastcastle.com, but here are some sneak peek shots to whet your appetite. Photos by M Design.