If there is a staple architectural feature present throughout true desert design, it has to be the beamed ceiling. I, myself, have been known to stand and appreciate the intricate configurations of  exquisitely decorated ceilings. Ceiling Beam Concepts of Arizona has invented a unique method to add a dramatic flair to any ceiling without the typical cost and difficulty associated with such an upgrade.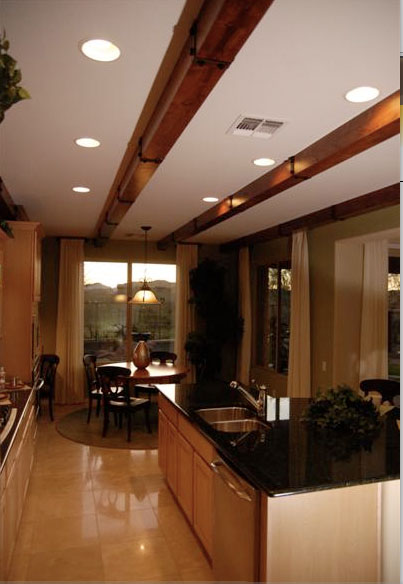 Unlike faux ceiling beams, which are often made from polyurethane or foam, Ceiling Beam Concepts Interlocking Beams are made from 100% alder wood and are light enough to make installation quick and easy. These innovative beams, the brainchild of company founder Jake Bryant, are non-structural and can be installed during construction or retrofitted to a home after it is built. Ceiling Beam Concepts Interlocking Beams span long areas or can be fitted into small spaces. Aesthetically designed straps and clavos lend an additional design component and allow the beams to flow seamlessly throughout the home.
"Ceilings in today's homes offer dramatic opportunities to extend the personality of the surrounding area," said Jake Bryant of Ceiling Beam Concepts. "What goes overhead can make all the difference in how a room looks and feels. People ask me, "How realistic are your beams?' Everyone has the same reaction when they see our wood beams for the first time. They are just amazed at how authentic the product looks."
Solid wood ceiling beams are popular for their exotic beauty, strength and durability. In many modern structures, the weight inherent in old growth beams cannot be supported. Decorative ceiling beams by Ceiling Beam Concepts create the appearance of solid wood beams without the worry of whether the structure will support them. All beams are three sided and open ended, allowing them to be easily mounted to a ceiling's drywall. The beams come in four-foot sections and cost a fraction of solid wood beams. You can even hide lighting, electrical and home theater wiring inside the beams.
"Decorative ceiling beams add style and sophistication to estates, homes, offices or commercial venues, without costing a lot of money," said Steve Brechner of Ceiling Beam Concepts. "They accentuate ceilings and interiors, giving a room that warm and cozy feeling."
Ceiling Beam Concepts products are sold at Home Depot stores throughout Arizona.
To learn more, visit www.ceilingbeamconcepts.com.