I love adorning my home with images of the faces and places that make me smile. After all, if you can't get that warm sentiment from your home, where will you get it from? As a teen, I used to have this thing called a picture wall, where photographs flowed from the ceiling to the baseboard and from one corner of the wall to the opposite corner. Upon hitting college and renovating the space, the pictures came tumbling down. Recently, I have been on a hunt for classy and timeless ways to once again showcase those most memorable moments captured on film. I think I may have found the answer in a company called Paint Your Life.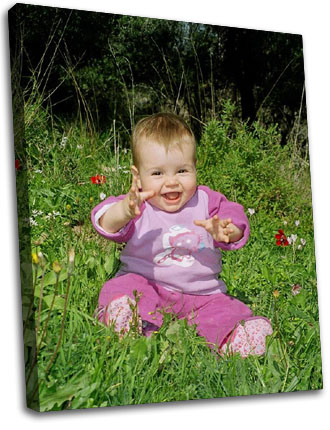 The Paint Your Life process is simple, upload the photographic image of your choice and the company's professional artists paint it by hand in oils to client specifications.  Clients pay only a 20% deposit; they pay in full when, after an online review process, they are happy with the work.  The whole process takes a little over a week and the finished pieces are shipped flat or rolled anywhere in the world.
www.PrintYourCanvas.com involves a similarly easy, serene process.  Users upload a photo and professional digital editors manipulate it into one of several recognizable artistic styles, creating a cherished keepsake—and the perfect gift—from an ordinary photograph.  Customers can choose a number of graphic styles that recall and pay homage to the works of Andy Warhol, Roy Lichtenstein and the latest art phenomenon, Shepard Fairey, whose works have inspired a movement.
In both these studios, clients actually participate in both the creation and refinement of their artwork.   After reviewing the first proof, they can ask for modifications as many times as needed or desired with no additional charges.
To learn more, visit www.PrintYourCanvas.com.