New bathroom sinks in ceramic and fireclay are breaking through the traditional, cold symmetry often found in the bathroom. Displaying a new freedom of design, these shapes are organic and comforting and bring a ethereal and sensual presence to the bathroom. Ruled by the fluid nature of water, many of the vessel sinks feature circular shapes, which suggest infinity, completion, softness, and security. Pedestal sinks and basins that sit atop wall-mount vanities boast straight, geometric lines, promoting feelings associated with energy and strength. The Swiss ceramics specialist Laufen and Spanish bathroom brand Sonia have redefined the art of ceramics and fireclay production by working with lauded designers, and employing the most progressive and technological manufacturing procedures available. Their award-winning designs represent the beauty and wonder of nature.
Featuring an organic, lagoon-shaped basin, the Washbasin from the Palomba Collection by Laufen appears rimless when filled. Designers Ludovica and Roberto Palomba refer to the collection as a "fingerprint of nature."
The Pedestal Washbasin from the ILBAGNOALESSI One Collection by Laufen and designed by Stefano Giovannoni features an interesting, amusing, and poetic design. It is very challenging to create as it is fired as a single piece. The washbasin features an impressive leveled surface finish and innovative shape given its large size. Giovannoni believes that ceramics symbolize the maternal aspect of the bathroom – the feminine side of things, round and soft.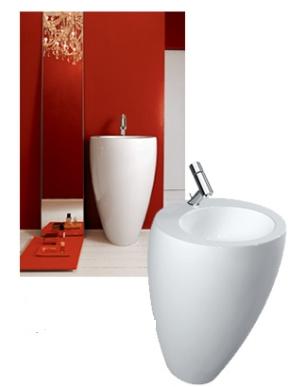 The SX3 Collection by Sonia is their most recent line to date composed of sleek, elegant sinks in a variety of sizes. Architectural in design with clean lines and a fluid continuity, this collection's compact size makes it ideal for small bathrooms, typical of today's metropolitan environments.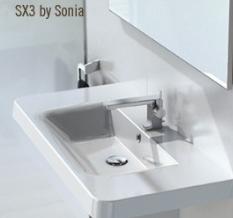 For more information, visit www.laufen.com.