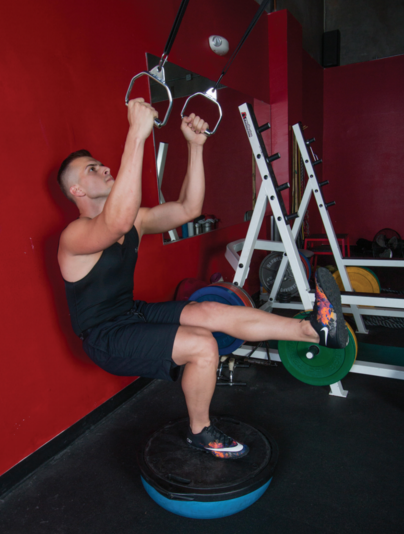 PHOTO BY DANNY RAUSTADT
By Melissa Larsen
From the most influential educators and business people to the biggest trendsetters and tastemakers, these locals are tops when it comes to making the Valley the best place to call home.
Fittest Male: Drew Reichmann, Fitness Professional, Lifestyles Fitness Personal Fitness Training
Tell me about your day-to- day. Not every day is the same but each week is consistent and consistency is the key to success when it comes to overall wellness. I make myself available to clients six days a week.  Twice a week, I'll train clients as early as 5:30 a.m. and as late as 8 p.m. These days are typically active recovery (foam roll/stretch) days for my own fitness regimen. The less busy work days I'll take my two Siberian huskies hiking in the morning followed by a workout of my own then take my dogs out for their second workout of the day before heading into work the evening block of clients.
Why is physical fitness so important to you? Sometimes in life you don't realize how important something is to you until it's taken from you. In separate incidents, I've broken five bones in my vertebrae, blown out both ankles, have arthritis developing in my left knee due to meniscus tear/patella tendon damage, and because of these injuries I've developed turf toe in both feet. With each injury, I sustained from this never-ending domino effect called life, it gave me plenty of downtime to think about how much my own health meant to me. My goal at 24- years-old is to be able to move pain free and the only way to do that is to move correctly and approach life holistically.
What are your tips for someone looking to become more active? Seek professional advice.  Yes, drinking the necessary amount of water, getting enough deep sleep and finding a physical activity you enjoy doing are important to increase your metabolism, immune system and overall mood. But you have got to make sure you're moving correctly. Muscular imbalances, postural issues and limited range of motion in joints are challenges not only those living the sedentary lifestyle face, but all of us have to deal with. Seek advice from a professional who focuses their attention on correctional movements so your body can reap the full rewards from your physical activity, instead of putting yourself in a tough situation down the road of improper body mechanics.
Fast Faves
Hidden Valley gem: Altered Ego Salon & Spa.
Scenic spot: Spook Hill.
Destination for relaxing: unwind | acupuncture + massage.
Check out Drew Reichmann in Arizona Foothills Magazine Best of Our Valley 2016 Collectors Edition issue here or get the digital version here. Copies will also be available at the Best of Our Valley Bash on May 6!