You voted for more than 4,000 nominees in nearly 400 categories (equaling 1.5 million-plus views at AZFoothills.com). Now, it is time to get to know your Best of Our Valley 2014 winners. From your favorite restaurants and resorts to your choice schools and shops, Arizona Foothills Magazine presents Best of Our Valley 2014.
Arizona is home to champion sports teams, some of the nation's top golf courses and always-anticipated sporting events. Here are a few favorites of Valley sports fans. 
Story by Lindsey Clinkingbeard 
BEST 19TH HOLE, BEST GOLF COMMUNITY, BEST PRIVATE CLUB AND BEST PRO SHOP –  MIRABEL 
MIRABEL IS THE PERFECT COMMUNITY for anyone who wants to enjoy the finer things in life with neighbors and friends—from a tasty 19th hole to the top golf-goods shop. The members-only clubhouse hosts everything from cooking classes and fitness clinics to charity events and more. Members enjoy full fitness, spa and salon services; a resort- size pool with cabanas; and a Har-Tru tennis garden. Plus, the luxury community's location in North Scottsdale offers residents spectacular views and a great climate. With 345 homesites, this guarded community is spread across 700 acres for an ideal combination of privacy and a strong sense of community. Mirabel offers both luxury homes and custom lots. www.mirabel.com. 
BEST SPRING TRAINING FIELD – SALT RIVER FIELDS AT TALKING STICK 
AS THE SPRING TRAINING HOME of the Arizona Diamondbacks and Colorado Rockies, Salt River Fields at Talking Stick raises the bar for Major League Baseball training arenas. Not only it is surrounded by the best mountain views in Scottsdale, but Salt River Fields is always improving to be the biggest and best baseball facility in the country. The unique layout of the campus gives fans up-close action from their favorite players, allowing them the chance to interact with them and experience baseball like never before. www.saltriverfields.com.
BEST GOLF CLOTHING & SHOPPING  – PGA TOUR SUPERSTORE
From the hottest new clubs to the slickest in tennis apparel and golf footwear, PGA Tour Superstore is the top spot for locals' sporting goods. There are locations in Chandler and Scottsdale.
www.pgatoursuperstore.com
. 
BEST CLUBHOUSE SPA – ENCANTERRA
La Casa at The Club at Encanterra is a 60,000-sq.-ft. resort club dedicated to delivering an exceptional membership experience. La Casa's personalized elements include a fully equipped sports shop, a state-of-the-art athletic club, contemporary indoor and outdoor pools and, of course, the indulgent Alvea Spa. Reserve your appointment for a refreshing massage, facial, mani/pedi or body treatment in a soothing, comforting environment. www.encanterragolf.com/encanterra. 
BEST CUSTOM GOLF CLUBS – COOL CLUBS
Cool Clubs is more than just a store; these golf professionals are completely focused on helping you play a better game by matching you with a club 
that is perfect for your unique swing characteristics. As the world's leading custom golf-club-fitting company, golfers of all levels can be assisted by Cool Clubs. The company offers superior technology with products from all major manufacturers, advisors with a deep understanding of club fitting, and better options no matter what your budget.
www.coolclubs.com
. 
BEST GOLF INSTRUCTOR – JASON REDDINGTON, HEAD GOLF PROFESSIONAL AT MIRABEL
As director of instruction, Jason Reddington has helped improve the game for many Mirabel members as 
well as star athletes like PGA Tour and Ryder Cup player Jeff Overton. A career golfer, Reddington has won tournaments at every level. He was named the 2013 Northern Ohio PGA Teacher of the Year and the head teaching professional for "Top 100" teacher Rick McCord and his McCord Golf Academy for seven years.
www.mirabel.com
.
BEST ARIZONA CHEERLEADERS
OR DANCE TEAM – ARIZONA DIAMONDBACKS RALLYBACKS
The Arizona Rallybacks are a profound group of entertainers in support of the Arizona Diamondbacks. They add flavor to any game with their fun crowd interactions, live promotions, fan greetings, prize giveaways and activities in the sandlot. The positive and energetic vibes this group gives off never fail to inspire the crowd.
www.dbacks.com
.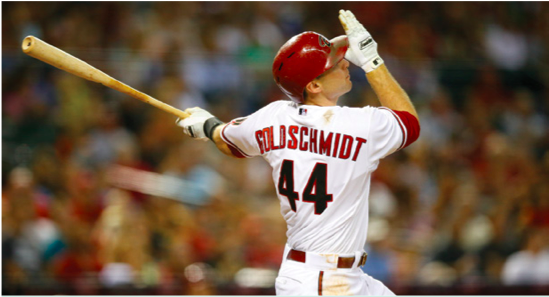 FAVORITE ARIZONA DIAMONDBACKS PLAYER – 

PAUL GOLDSCHMIDT
DRAFTED IN 2009,
Paul Goldschmidt has a successful record of wins, including hitting a .334 and 18 home runs while playing for the Missoula Osprey. He continued his success with the California League, where he was named All-Star and the league's Most Valuable Player. Goldschmidt was called up to the major leagues in 2011, adding grand slams to his record against teams like the St. Louis Cardinals and the Chicago Cubs. Thanks to his stellar performance in the 2013 season, Goldschmidt earned a spot on the National League All-Star team.
www.dbacks.com
. 
BEST SPORTS MANAGER –  KIRK GIBSON, ARIZONA DIAMONDBACKS
Diamondbacks manager Kirk Gibson is the type of person who sticks to his task and doesn't give in until the job is done. Best known for his home run hit as a Dodgers player during the 1988 World Series, the win led to him being named the National League MVP. Gibson has been with the Diamondbacks since 2007, but it wasn't until midway through the 2010 season that he served as manager. In his first full year, he led the Diamondbacks to their first NL West title since 2007 and was named the NL Manager of the Year in 2011.
www.dbacks.com
. 
BEST ARIZONA PRO SPORTS TEAM – ARIZONA RATTLERS The Rattlers are a professional and passionate Arizona football team who are current champions of the Arena Football League. Founded in 1992, the Rattlers are led by head coach Kevin Guy and their home games are based out of US Airways Center. Since its establishment as a team, the Rattlers have won eight division titles and have played in eight ArenaBowl Championship games. www.azrattlers.com. 
BEST PUBLIC COURSE – QUINTERO GOLF CLUB Luscious green grass covers the Quintero Golf Course in the middle of the Arizona desert land. Quintero focuses on providing guests with the finest playing surfaces and an ultimate challenge for their personal game. This course offers a true Southwest experience in the game of golf. www.quinterogolfclub.com. 
BEST SPORTING EVENT – WASTE MANAGEMENT PHOENIX OPEN
Hundreds of thousands of golf fans come out to enjoy the crisp Arizona weather and the competitive game of golf at Scottsdale's Waste Management Phoenix Open. The best of the best golf players come out to compete in this event that's 
filled with special entertainment like musical artists and Olympic athletes. The tournament is the largest to be held in Scottsdale and is attended by people who live all around the world.
www.wmphoenixopen.com
.
BEST SPORTING GOODS STORE – SPORT CHALET Founded by Norbert Olberz in 1959, Sport Chalet has grown to 45,000-sq.-ft. sporting goods stores with premium equipment, apparel and footwear. Each store includes a selection of specialty shops offering brand-name apparel plus traditional and specialty equipment for beginners and experts. Remaining true to Olberz' vision, Sport Chalet is staffed with well-trained, knowledgeable sales associates. www.sportchalet.com. BEST SPORTS VENUE – CHASE FIELD Chase Field is the home of the Arizona Diamondbacks. Opening in 1998, Chase Field was the first stadium built in the nation with a retractable roof. Originally named Bank One Ballpark, the stadium now boasts a swimming pool sponsored by Dodge, which is rentable to patrons as a suite for $3,500 per game. The stadium is also home to concerts, football games and supercross events. www.azchasefield.com. FAVORITE ARIZONA COACH – KEVIN GUY, ARIZONA RATTLERS Having served as a football coach since 2000 and a former player himself, Kevin Guy has extensive knowledge of the game that he implements into coaching. Named the head coach of the Rattlers in 2008, Guy has won two ArenaBowls in 2012 and 2013. www.azrattlers.com. FAVORITE ARIZONA RATTLERS PLAYER – MARCUS PITTMAN Marcus Pittman is a six-foot five-inch, 290-pound player who competed in all 18 games of the Rattler's 2011 season. During that year, he set a record with 8.5 sacks and made 27.5 tackles, five pass breakups, one interception and two forced fumbles. This season will mark his fifth with the Rattlers. www.azrattlers.com. 
FAVORITE FEMALE GOLFER –  CRISTIE KERR Cristie Kerr has succeeded in her golf career with 16 wins on the LPGA Tour, including two major championships. Motivated by her mother, Kerr is dedicated to finding a cure for breast cancer through the foundation she created called Birdies for Breast Cancer. In 2009, she raised $750,000 through donations and an annual charity event. Kerr currently resides in Scottsdale. www.lpga.com.
FAVORITE FEMALE ARIZONA COLLEGE ATHLETE – MACEY GARDNER, ARIZONA STATE UNIVERSITY VOLLEYBALL
Named Pac-12 Freshman of the Week after a game where she posted double- doubles against Florida Atlantic and Gonzaga, Macey Gardner is a talented player for ASU's volleyball team. Gardner traveled with the Pac-12 All-Star Team to China in order to play against profes- sional teams in Beijing and Shanghai in June of 2013. Gardner is a Gilbert native.
www.thesundevils.com/sports.
FAVORITE PHOENIX COYOTES PLAYER – KEITH YANDLE
Keith Yandle is both a defenseman 
and alternate captain for the Phoenix Coyotes. Yandle was a part of the Quebec Major Junior Hockey League, where he won the championship and took home the league's Emile Bouchard Trophy for best defenseman and the Telus Trophy for the defensive player of the year. Yandle is in the middle of his five-year contract with the Coyotes.
coyotes.nhl.com
.
FAVORITE MALE GOLFER – PHIL MICKELSON  Phil Mickelson has won 42 events on the PGA Tour, including five major championships. Nicknamed "Lefty" for his left-handed swing, Mickelson now holds a place in the World Golf Hall of Fame. He learned the sport of golf at a young age and attended Arizona State University on a golf scholarship. www.philmickelson.com. 
FAVORITE ARIZONA CARDINALS PLAYER – CALAIS CAMPBELL In 2011, Calais Campbell stepped up as a defensive powerhouse for the Arizona Cardinals. Born in Colorado, Campbell played college football for the University of Miami in Florida. Campbell is widely regarded as one of the nation's top defensive players. www.azcardinals.com. 
FAVORITE MALE ARIZONA COLLEGE ATHLETE – BRANDON MAGEE, ARIZONA STATE UNIVERSITY FOOTBALL
Brandon Magee is an ASU alumnus who played college football for the Sun Devils. At age 23, Magee is now a linebacker for the Cleveland Browns, after having played for the Dallas Cowboys as an undrafted free agent.
www.thesundevils.com/sports
.
FAVORITE PHOENIX SUNS PLAYER – CHANNING FRYE Channing Frye plays center and power forward positions for the Phoenix Suns. A graduate of the University of Arizona, Frye was selected eighth overall by the New York Knicks in the 2005 NBA Draft—the first college senior to be selected in that draft. It was also that year he was named Rookie of the Month. Since 2009, Frye has been playing for the Phoenix Suns. After discovering he had an enlarged heart and sitting out the 2012-2013 season, Frye is now back on the court. www.nba.com/suns.
MOST CHALLENGING COURSE – THE GOLF COURSE AT THE WIGWAM GOLF CLUB & SPA
The Gold Course was designed in 1964 to rival the famed South Course at Firestone Country Club. Covering more than 7,400 yards, this long and winding par-72 course challenges even the finest of golfers. The Wigwam, in Litchfield Park, features a variety of golf packages that entice any traveler, from family getaways to golf-focused buddy trips.
www.wigwamarizona.com
.
MOST PHILANTHROPIC
ATHLETE – KURT WARNER, FIRST THINGS FIRST
Kurt Warner's First Things First organi- zation is dedicated to impacting lives by promoting Christian values, sharing experiences and providing opportunities to encourage everyone that all things are possible when people seek to put "first things first." The organization partners with Rosemary Grove, which offers eco-friendly products, and Fairytale Brownies, which donates 25 percent of its proceeds to First Things First.
www.kurtwarner.org
.
FAVORITE PHOENIX MERCURY PLAYER – PENNY TAYLOR 
Having played basketball nearly every day since she was 4-years-old, Phoenix Mercury's Penny Taylor has loved the sport for almost her entire life. Taylor started playing professional basketball in Australia when she was 15. When Taylor tore her left ACL in 2012, the road back to health had been challenging. After another minor surgery to repair floating cartilage, Taylor has since improved with the help of personal trainers, weights and Pilates.
www.wnba.com/mercury
.