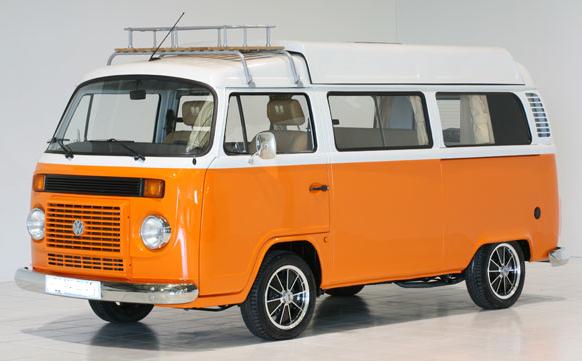 We posted an article concerning the history, present, and future of the common van on Vroom last week.  One essential chapter in popular van history we inexplicably overlooked was the VW Microbus.  Gone from the US market for more than three decades, the VW Type 2 Microbus has since taken on an iconic status due largely to its association with the 1960s counter culture and vagabonding movement.
What many do not know, at least not until recently, is that the VW Microbus, remaining true to the original design, has remained in production in Brazil well after it dropped off of the map elsewhere.  Having long been utilized for everything from family transport to commercial cargo, the VW Type 2 has enjoyed a great deal of popularity in South America's largest nation.  This strange and fortunate carry over of the past into the present has for a quite a while been isolated to Brazil, but South American manufacturers and Dutch importers have recently announced a partnership whereby the 2012 VW Type 2 Microbus will be available for sale to the Dutch public for the first time in almost four decades.
From the picture above, it would seem that nothing much has changed from the original design, or at least the one that became so iconic in American cultural memory.  One key change though is that the van's air-cooled flat four-cylinder engine has been replaced with a more modern 1.4-liter inline four, and the "spare tire" you see hanging onto the front of the vehicle is actually an air filter that obscures placement of a front-mounted radiator.
The importation of the VW Type 2 Microbus into the Netherlands means that there is a demand.  As the economy tightens, people become more environmentally conscious, and the entire western world shrinks, thus leaving us all to engage in a nostalgic yearning for the same cultural artifacts, logic would dictate that the demand would be shared here in the US.  Keep an eye out for new VW Type 2 Microbus', possibly cruising atop the hot Phoenix Valley streets and freeways sooner than one might imagine.
Phoenix Valley auto and tech enthusiasts should seriously consider taking a road trip out to Los Angeles in late November for the LA Auto Show, a popular platform for the worlds leaders in design, engineering, and electronics to debut their most cutting edge concepts and developments.
Phoenix Valley auto enthusiasts should also plan on attending the Phoenix Arizona International Auto Show to learn about the most recent concepts and innovations from Volkswagen, as well as the rest of the auto industry, taking place at the Phoenix Arizona Convention center over Thanksgiving weekend.