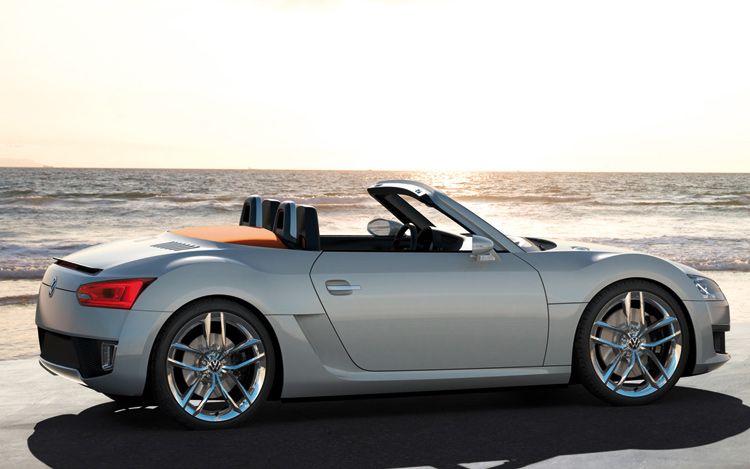 In January of 2011, Volkswagen debuted it's Concept BlueSport.  The BlueSport is an affordable, uncommonly economical and highly agile mid-engine roadster, and marks the begging of a new direction in exterior styling for the auto manufacturer.
The Concept BlueSport is a vehicle that is a lot of fun to explore a city or countryside in, and at the same time makes an unmistakable statement about sustainability.  If the Concept BlueSport were to go into production, it could herald a renaissance of the compact roadster, as this car handles just as well and efficiently in the urban environment of the great American metropolises such as Phoenix Arizona as it does on curvy country roads and long expressway routes.
The BlueSport is about maximum fun and minimal fuel consumption.  To fit this starting vision, a mid-engine sports car was implemented that makes no compromises and that aims at low weight and maximum agility right from the start.  Although it is best in its class when it comes to body rigidity, the Concept BlueSport weighs in at less than 2,600 lbs.
The results: performance that is more than impressive for every situation in addition to the fuel economy and emissions advantages. Low weight was attained by consistent application of lightweight construction methods (among other things, the soft top – at 60 lbs – is the lightest in its class, and the hoods are made of aluminum), and by a body layout with crisp and compact dimensions.
Despite its sports car influences, it still offers a respectable level of everyday utility.  With a fuel tank volume of 14 gallons and fuel economy of 42 mpg, the possible range is greater than 580 miles. Making a positive impact on the car's range, fuel economy and emissions are two technologies that could become more and more commonplace in the future and are part of the Eco mode on the Concept BlueSport: an automatic start-stop system and braking energy regeneration. The place where automatic start-stop shines is in the Phoenix Valley city and suburban rush hour freeway traffic. When the Concept BlueSport stops at a traffic light, for example, it automatically shuts off its engine. As soon as the light turns green again, just tapping on the gas pedal is enough to start the engine. Furthermore, primarily when the Concept BlueSport is braked, energy is generated by the alternator (regeneration), which relieves the engine and further improves fuel economy.
Phoenix Arizona customer can keep an eye out for the Concept Blue Sport at any local Phoenix Valley Volkswagen dealer.  The concept vehicle will likely go into international production, and onto the Phoenix Arizona market, in the next two or three years.