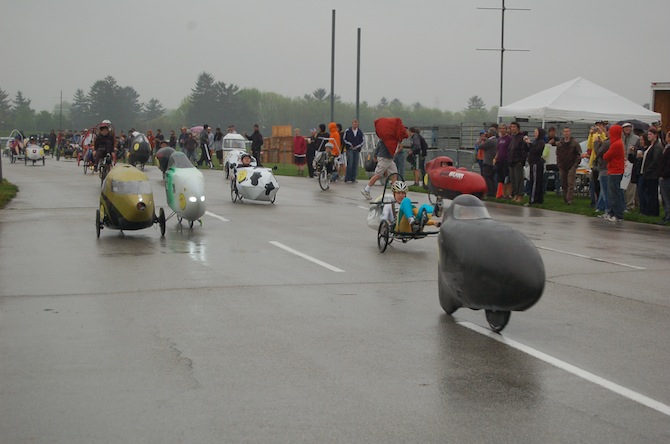 The human Powered Vehicle Challenge recently took place.  The HPVC pits human-powered vehicles from colleges across the US and from international entrants against each other, and is led by the American Society of Mechanical Engineers.
ASME's international Human Powered Vehicle Challenge provides an opportunity for students to demonstrate the application of sound engineering design principles in the development of sustainable and practical transportation alternatives. In the HPVC, students work in teams to design and build efficient, highly engineered vehicles for everyday use—from commuting to work, to carrying goods to market.
"The big goal is to provide a design experience for engineering students where they can actually build, test and compete against some of their peers from other schools, putting what they're learning to work," said race chair Dr. Mark Archibald. "An emerging goal has also been to emphasize sustainable transportation."
Safety is also an issue.  Of course, at the lower speeds that you are likely to see at this event, safety is not as much of an issue as it might be with NASCAR, or a similar event.  BUT, human powered vehicles can still go relatively fast, and the idea is to eventually get the more successful concepts out onto the road, thus safety is an important issue.
"A lot of them will have safety systems," Archibald said. "They're required to have rollover protection and harnesses, so there's an added element of safety. The utilitraion vehicles often come with full lights, turn signals, things you don't see on an ordinary bicycle."
Phoenix Valley auto, science, and tech enthusiasts can keep an eye out for experimental concept vehicles, such as some of those seen at the Human Powered Vehicle Challenge, by going to the Phoenix Arizona International Auto show, taking place at the Phoenix Arizona Convention Center over Thanksgiving weekend.  Phoenix Valley residents may also want to consider a road trip out to nearby Los Angeles for the 2011 LA International Auto Show, which features many challenges and competitions specifically designed around alternative power and experimental design concepts, also taking place in November.