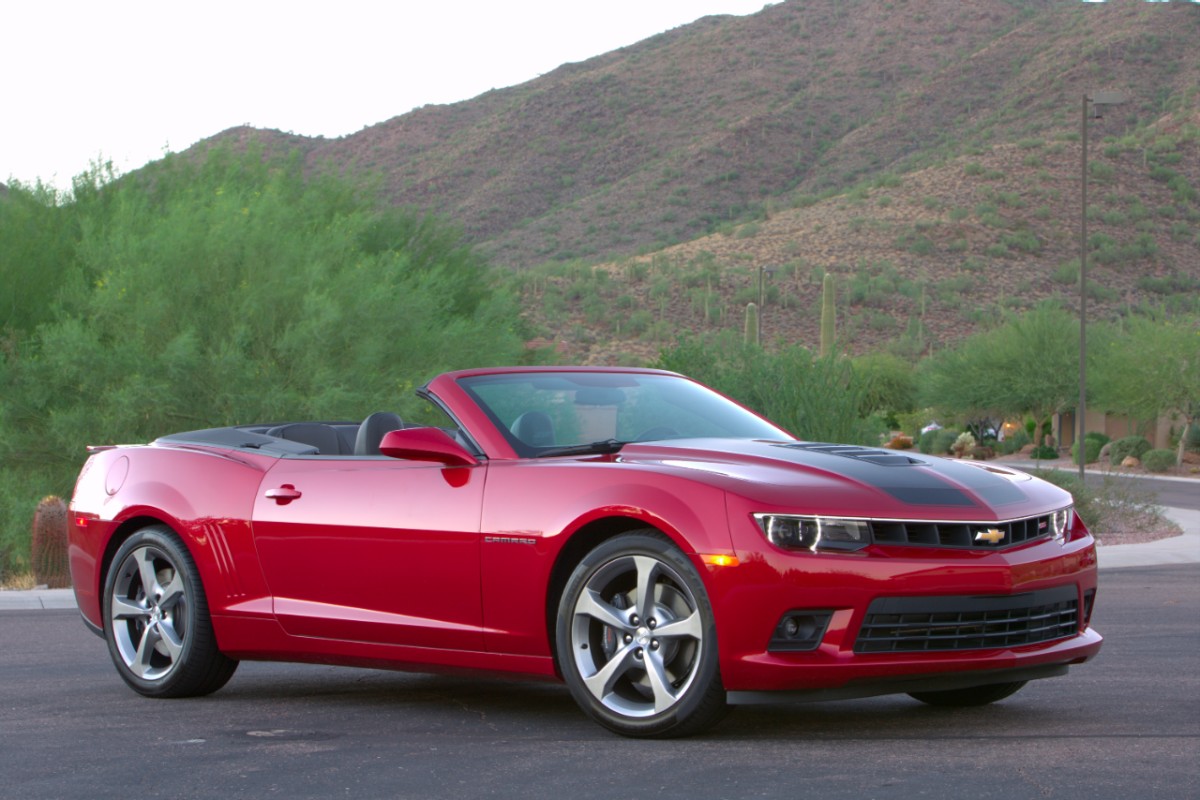 "When I drive past the kids
They all spit and cuss
Cause I've got a bitchin' Camaro
And they have to ride the bus."
—   The Dead Milkmen
The 2014 Camaro 2SS Convertible certainly is a looker. It's not "retro" in the traditional sense like, for example the VW Beetle or the (gasp) Chrysler PT Cruiser, but it does have a certain traditional muscle-car look that appeals to several generations' sense of automotive nostalgia. I drove this "bitchin' Camaro" blasting XM Radio's  '80s on 8 on the premium Boston Acoustics sound system, reveling in the whole throwback vibe.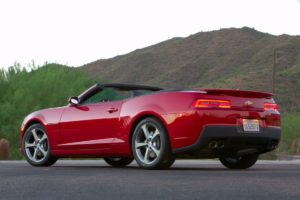 In actuality, the Camaro has been updated for 2014, with a wider, lower stance, and more contemporary, redesigned front and rear fascias. An optional black-stripe package adds, well, black stripes, to the Camaro's hood lending a bolder, racier look. Single-bar styled taillamps replace the previous two-square design, and mimic the look of the new Corvette Stingray. Is the Camaro trying to resemble the Corvette or vice versa? Whatever the case, there is evidence of shared DNA.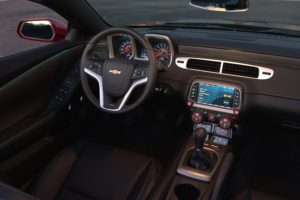 Under the hood, the SS Convertible has a 6.2-liter, 426-horspower V-8, coupled with a six-speed manual transmission. The engine roars to life, emitting powerful notes via the optional dual-mode performance exhaust. The interior is packed with the expected luxury amenities, including heated seats, leather surfaces and power everything. A navigation system is optional. The monochromatic look, trimmed occasionally with brushed aluminum, is austere, but functional. Entry and exit from the rear seat is challenging, and the space is best left for small, child-sized passengers or adults not suffering from any degree of claustrophobia.
The V-8 is powerful, but doesn't render the Camaro agile. It has a very heavy feel on the road, and it's safe to assume that the V-6 on lower trim levels would make it feel downright anemic. Steering, however, is responsive. The low stance does result in a bit of a harsh ride, especially at highway speeds, and the cloth top doesn't insulate the cabin from all road noise, but the Camaro does offer a testosterone-fueled rush when you're behind the wheel.
While the small windows and high beltline look great from the outside, visibility suffers when the top is up. The power-folding convertible top is relatively easy to operate, but requires some muscle to latch closed.
At the end of the day, the new Camaro SS Convertible offers both style and substance for those looking for more muscle than finesse. It is one bitchin' ride.
The Camaro 2SS tested here lists at $46,360 with options, including dual exhaust ($895), navigation ($795) and black stripe package ($470), and RS package ($1,350) with HID headlamps and LED taillamps; base price for this model is $41,855. The base V-6 equipped 1LT Camaro starts at $31,055; other models include the 2LT, and 1SS.