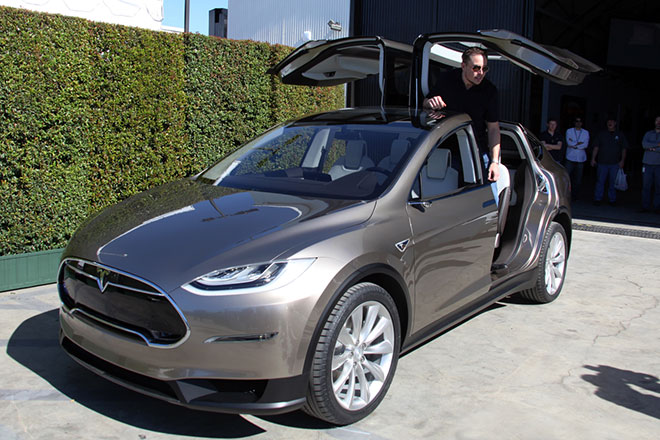 Ok, we all like the idea of an electric car.  Whats not to like?  You save money, you lessen your carbon footprint, the air you breath improves, its a win win.  The only problem is that the industry is in its infancy, meaning that when you buy an all electric vehicle you are losing almost as much as you are gaining.  Who wants to wait several hours to charge a battery when they can easily fill up a tank in a couple of minutes?  Who wants to drive at the minimum possible speed, barely experiencing the feel of the drive, when you could rocket down the highway in visceral expectation?  Tesla knows this.  Tesla CEO Elon Musk, founder of Paypal and SpaceX, has been working to bring electric vehicles into the mainstream for several years now by making them appealing at a performance and luxury level in addition to the benefits of electric power.  Tesla's newest venture is the Model X Concept.
The Model X Debuted last week to rave reviews and a growing anticipation and excitement for where this model may lead Tesla in future projects.  The Model X departs from previous Tesla vehicles and concepts in that it is not purely a luxury racing vehicle.  The luxury racing style and performance in the mode of an all electric vehicle has, up till now, been Tesla's public image and sales pitch in its entirety.  The Model X however mixes in crossover features, rear gull wing doors(unique and bizarre, but we like it), and enough interior room to be the primary vehicle for a large family.
"We've created a car that has more functionality than a minivan, more style than an SUV and more performance than a Porsche 911 Carrera," Musk said in a press conference on the 10th of February, continuing "The reason for bringing the Model X out now is to show that we really can do more than one car, that we can leverage the investment in the Model S into another vehicle."
Phoenix Valley automotive enthusiasts can contact Tesla directly to inquire about test driving any existing model vehicle(they are still a very small boutique manufacturer).  Phoenix Valley car and tech lovers can also look forward to seeing Tesla at the next Phoenix Arizona International Auto Show, taking place this November at the convention center in downtown Phoenix.