By: Brandon Randall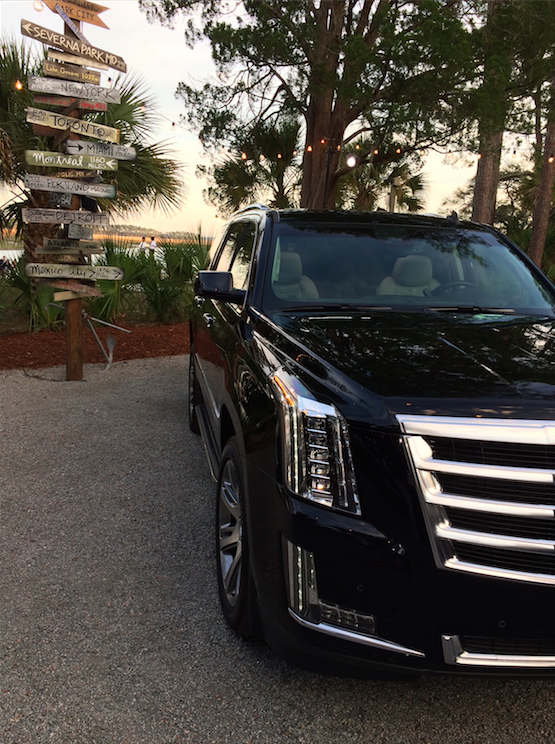 Among the slow-talking, mosquito-filled and humid 'low country' (also known as South Carolina), I laid eyes on the 2015 Cadillac Escalade. Hunkered down in the shade of the big oak trees that towered overhead, draped in Spanish moss, I took note of the luxe SUV's new design between sips of sweet-tea. In the past, Cadillac's big flagship vehicle always seemed like a dressed up Chevy Suburban. Recently though, Cadillac has entered a period of unprecedented growth. It's behaving more like a 'start up' company than the seasoned auto manufacturer it is, with as much history and heritage as the red brick buildings that surround me.
It may not be a southern bell in the looks department, but the new Escalade has a commanding presence. It's full formed with crisp lines and abundant chrome detailing. The big 22" rims help add curb appeal as well. The Escalade ups the ante in a big way when you settle in behind the wheel. Cadillac's attempt to artistically integrate technology in its vehicles is immediately apparent. The Escalades interior is overflowing with genuine, hand-cut and hand-sewn materials. There isn't any smoke or mirrors here. If it looks like wood, it's wood. Carbon fiber, leather, polished metal… it is. New for 2015 are convenient third row fold flat seats and reshaped B and C pillars for improved accessibility. The lift gate is hands free now and the video screen is finally Blu-ray capable and 9" up from 8."
Excessive measures have been taken to quiet down the cabin during driving, and quite successfully I'll add. Cadillac insulated the engine bay, added acoustic laminate to the glass, triple sealed the doors and more. All of this adds up to create a cabin that insulates you from the loud world outside your soft, leather enshrined cocoon. As big as this car is, the quite, complaint ride and luxurious interior combine to create a relaxing and comfortable driving experience.
Don't let this fool you into thinking that the new Escalade is all pillows and peach fuzz. Its 6.2L V8 engine makes 420 horsepower and 460 lb ft of torque. That's enough to propel you from 0-60 in an impressive 5.9 seconds. Despite its size, it'll perform on this level and still make 15/21 mpg. This makes the 2015 Escalade a pack leader in both power and fuel economy.
There's a lot to like about the new Escalade. It's received awards from J.D. Power for quality and dependability. The quality recognition is especially undeniable. It's becoming less and less the Chevy Suburban with a make-over and more the lavish luxury 7 passenger vehicle that Cadillac is trying to create. The new 2015 Escalade is refined, obsessive with even the smallest detail, and more extravagant and grandiose than ever. Are the differences enough to justify spending $72,000-$81,000? That's roughly $20,000 more across the model range than the Suburban. That's always been the big question. Maybe Cadillac hasn't completely convinced us all yet, but with each new installment, the Escalade is getting closer and closer to fully setting itself apart and finally making the answer to that question a firm, resounding 'yes!'