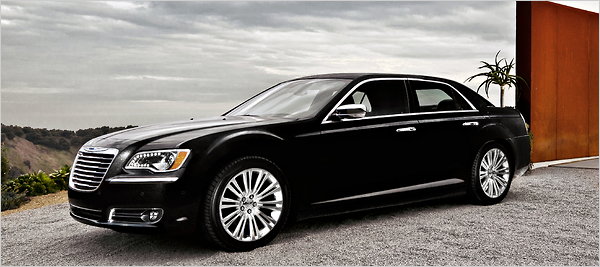 We have all seen the films, from The Godfather to The Untouchables, the classic American gangster movie tends to focus as much on the clothing and automobiles of a certain time and place, as it does on the crime and politics.  There is usually a scene or two featuring a downed nemesis, several tommy guns, and a getaway car looking something like a recent production year Chrysler 300.  Many Phoenix Valley residents may even remember the Chrysler 300's role in the 2005 five film "A History of Violence", playing the dark and ominous gangsters' transportation of choice.  But that vintage urban noir image is going by the wayside with the redesigned 2011 version, and in it's place is a bit of upscale subtlety.
Gone are the boxy vintage-chic edges, and in their place are soft modern lines, inspired less by Hollywood-Noir, and more by aerodynamics and mainstream up to date aesthetics.  The high belt line is less extreme and pronounced, and the small, tank-like cabin has been opened up with larger windows.
These changes are also important due to the need for a modern vehicle to possess a universal appeal.  With Chrysler having now been integrated into the Fiat Group of Italy, the 300 will get a new nose and assume an alternate European identity as the Lancia Thema.
In addition to the re-conceptualized whole of the body, other exterior changes include bi-xenon HID projector headlights, LED daytime running strips within the headlights, modified tail lights with LEDs and a horizontally slotted front grill. Thinner roof pillars and a more raked windshield will contribute to improved visibility. A dual-pane panoramic sunroof will offer twice the outward visibility of an average sunroof, which makes for an ideal option in the perennially sunny Phoenix Arizona weather.
Interior upgrades included a new instrument panel with "soft-touch" materials throughout, 8.4 inch Uconnect Touch, with a new steering wheel and center console.  Both seat-mounted and curtain side airbags were made standard.
Phoenix Arizona motorists who appreciate a little attitude in their vehicles shouldn't worry too much.  This car car still looks pretty intimidating, only with slightly more subtlety.
Phoenix Valley auto enthusiasts can view and test drive the new redesigned 2011 Chrysler 300 at any local Phoenix Valley area Chrysler dealer.