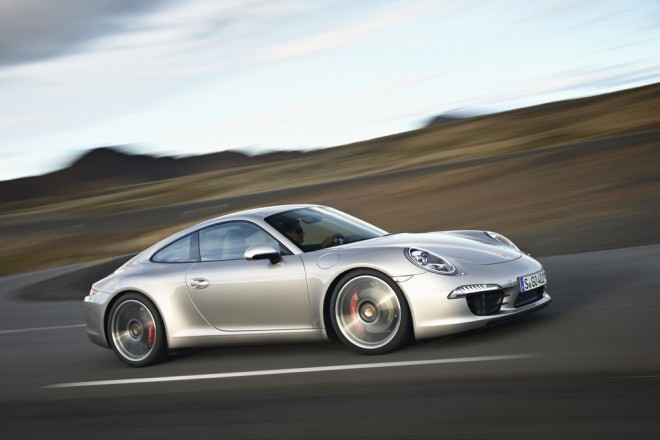 Porsche is one auto company that has always stood out among its peers.  A Corvette may seem a little bland.  A Lamborghini…well, the opposite of bland, but maybe too much so.  A Porsche, on the other hand, exudes taste, and an appreciation of the fine art of quality engineering.  Where some of the other super sport outfits may seem a bit like a loud rock band, a Porsche is closer to a finely made watch.
Of course, of one were in Frankfurt this month, if one were able to see the new Porsche 911 Carrera speeding by them in a demonstration, watching it halt to a stop then pick up and go from 0 to 60 in about 4 seconds, the finely crafted watch analogy may seem a bit out of place.
100 lbs lighter than its predecessor, the new Porsche 911 Carerra revves out 350 horse power at 28 miles per gallon, according to new European mileage standards (which could aid in making vehicles more easily trans Atlantic standards adaptable).
For those who appreciate the little differences, the new Porsche 911 Carerra S model, delivering higher performance at 400 horse power, comes in at $96,000.  The standard Porsche 911 Carrera comes in at $82,000.  Both models will be hitting showroom floors world wide at the end of the year.
Phoenix Valley auto enthusiasts can view and test drive any current production model Porsche at any Phoenix Valley Porsche dealer.  Phoenix Valley auto enthusiasts should plan on attending the Phoenix Arizona International Auto Show to learn about the most recent concepts and innovations from cutting edge design outfit like those found under the Porsche umbrella, as well as the rest of the auto industry, taking place at the Phoenix Arizona Convention center over Thanksgiving weekend.