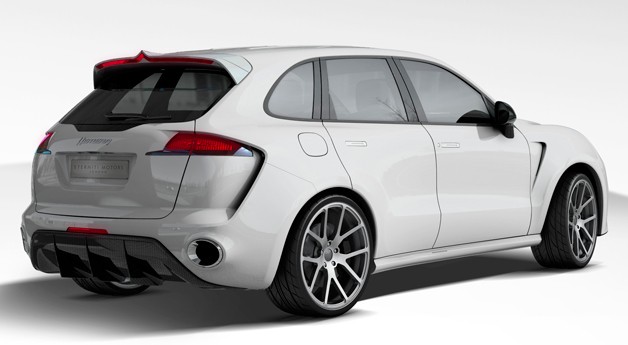 Most new automotive companies springing up today are small boutique electric vehicle manufacturers, a sort of automotive equivalent of
custom lighting. You can save money, help the environment, and look, well, not cool, but…different. What makes the new British Automotive company Eterniti different is that it is setup as a fully diversified auto manufacturer, which is bold in today's market. Not necessarily wise, but bold. While all of this may be uninteresting for non-Eterniti stock holder, their most recent concept, the Hemera SUV, should catch the eye of any consumer who recognizes quality and appreciates luxury.
The Hemera, described as the world's first Super-SUV, will offer new levels of luxury and performance to the SUV segment when production starts early next year. Hand-built in London, the Hemera comes distinctive with an ultra luxury limousine-like rear cabin, including twin electric reclining seats, iPads and a drinks chiller. This car can serve as a very nice family transportation solution, high end off road adventure tool, or as essentially a limo or Lincoln town car. With its compact dimensions, 4×4 ruggedness and dynamic performance, it is more practical than a limo or Lincoln, and seeks to appeal to the true gear head with over 620bhp on tap and a top speed in excess of 180mph.
Phoenix Valley auto enthusiasts can likely view and test drive any current production model Eterniti at any Phoenix or Scottsdale boutique
dealerships in the near future. Phoenix Valley auto enthusiasts should plan on attending the Phoenix Arizona International Auto Show to learn about the most recent concepts and innovations from across the pond and the rest of the worldwide auto industry, taking place at the Phoenix Arizona Convention center over Thanksgiving weekend.