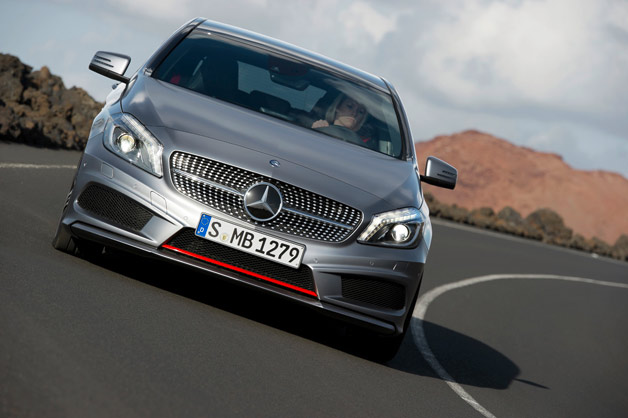 Intergalactic Planetary, No Sleep Till Brooklyn, Paul's Boutique, License To Ill…what do we all think of when we hear these words?  That's right, the new 2012 Mercedes Benz CLC.  Or maybe not, but those who attend Transmission LA: AV Club, a free concert and arts festival taking place next month in LA, will have the two world's permanently joined together in a type of supernatural harmony in their minds.
The festival, partly sponsored by Mercedes Benz, is being curated by the Beastie Boy's Chuck D and will also serve as the North American launching pad for what Mercedes Benz calls a Concept Style Coupe.
Artists currently on the line-up include Peter Coffin, Benjamin Jones, Mike Mills, and Tom Sachs.  The 17-day festival will be celebrating and presenting contemporary art, design, music, film, and food, all hosted at The Geffen Contemporary at MOCA in Los Angeles.
The Avant/Garde Diaries, a global online interview magazine, is hosting "Transmission LA: AV CLUB curated by Mike D," from April 20th through May 6th, at The Geffen Contemporary at MOCA in Los Angeles. The multi-disciplinary festival is scheduled to be the meeting point for the Los Angeles art and music community, and is the sequel to the series of festivals that premiered in Berlin last year with curator and fashion designer Raf Simons. Mike D will be joined by Roy Choi, Benjamin Jones, Mike Mills, Tom Sachs, Public Fiction from Los Angeles, Still House Group from New York, and additional artists and musicians, for the 17-day collaborative festival in Los Angeles.
"I'm psyched to be presenting a group of visual artists, musicians, DJs, food masters, and top notch baristas. I'm honored to be a part of a truly memorable sensory experience," said Mike D.
And how does Mercedes Benz fit into this picture?  A spokesperson explains the linking themes:
"The aim of Avant/Garde Diaries is to offer a platform for creativity. Curiosity and the joy of breaking through existing barriers are drivers for innovation and progress, and not just at Mercedes-Benz," said Anders Sundt Jensen, Vice President Brand Communications Mercedes-Benz Cars. A special highlight of the festival in Los Angeles will be the artistic staging of the Mercedes-Benz Concept Style Coupe, which will be unveiled to the world for the first time.
With exhibitions, concerts, DJ nights, performances and installations, the festival will illustrate how audio and visual art forms can inspire each another and unleash unimagined synergies. This artistic concept is also symbolized by the event's logo, which depicts the letters A (for audio) and V (for visual), merging inextricably and appearing to fuse with one another. The festival will be open daily from April 20th through May 6th.
This is an ideal opportunity for Phoenix Valley automotive, art, music, and food lovers to catch some great and cutting edge work from many different worlds all under one roof.