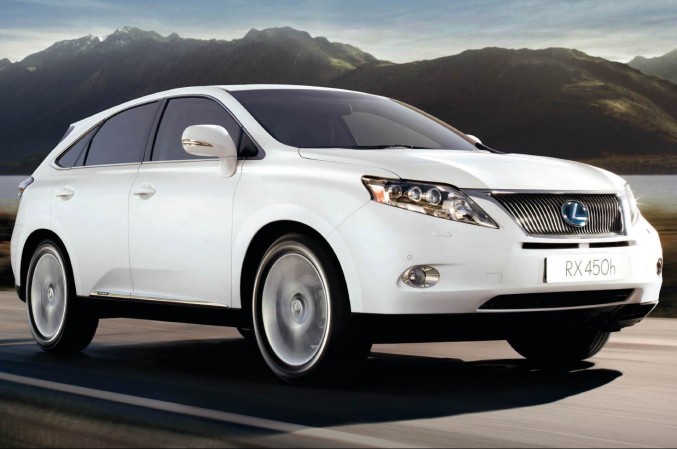 While Toyota has provided the world with the gold standard of the practical green vehicle, the Toyota Prius, they have not stopped there.  Akio Toyoda, the president of the company and heir to an automotive legacy, has a serious vision for where he wants the company to go, as well as a high standard of excellence for both new production models and concepts.
While this is a grand quality, the market bears out that good automotive leadership is not relegated to the realms of the futurists, but it necessitates a knowledge of what people want and need in the present.  People need fuel efficiency, and people want to be environmentally friendly.  People need a practical workhorse to get them from A to B, and people want a vehicle characterised by luxury and versatility.  For those of us who want or need the best of all worlds, Lexus, Toyota's luxury wing, has given us the 2012 Lexus RX Hybrid.
The 2012 Lexus RX Hybrid contains both worlds, that of serious off road capability, and that of finesse, style, and warm luxury.  Equipped with a 3.5-liter V6 engine, revving up to almost 300 horsepower, this four wheel drive workhorse will take you off road to just about anywhere you would dare to go.  And then, of course, there is the luxury.  Wrapped in leather and fine wood, not to mention the state of the art communication/navigation and music system, the RX offers every creature comfort imaginable in the realm of the luxury SUV.
And then of course there is the third world: Efficiency.  With a 30 combined mpg, the 2012 Lexus RX Hybrid ranks second in the category of the most fuel efficient SUVs on the market today (the Ford Escape Hybrid ranks #1, but we will leave that for another post).  With this kind of mileage, any Arizona adventurer is much more likely to take that weekend trip to the mountains on a whim (and the weekend adventures taken on a whim are always the sweetest).
Phoenix Valley auto enthusiasts can view and test drive any current production model Lexus at any Phoenix Valley Lexus dealer.  Phoenix Valley auto enthusiasts should plan on attending the Phoenix Arizona International Auto Show to learn about the most recent concepts and innovations in the way of hybrid, electric, and alternative fuel technologies from Toyota/Lexus, as well as the rest of the auto industry, taking place at the Phoenix Arizona Convention center over Thanksgiving weekend.