Anyone growing up in Arizona knows about our state's five Cs: copper, cattle, cotton, citrus, and climate. Climate. That's the one that makes us so fond of another "c" – the convertible.
For the majority of the year, Arizona is perfect for top-down driving. The downside is, when that summer sun beats down on a cloth top, no amount of insulation can fully prevent the heat from seeping into the cabin. Thankfully, Lexus has the perfect solution. A hardtop coupe based on the four-door IS platform, available with either 204 or 306 horsepower, the rear-wheel drive Lexus IS C is refined, yet exhilarating to drive. The optional F Sport package gives you a firmer suspension, and some sportier design cues.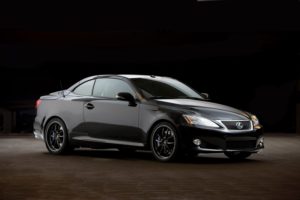 Top up, it's as quiet as any luxury sedan. In the span of 20 seconds, the steel top retracts and folds neatly into the trunk, transforming the sleek and sophisticated coupe into a stylish convertible. The cabin is comfortable and appealing in its well-thought out, simple, yet upscale design, replete with all the amenities and luxury features you expect from Lexus, including the optional Enform app suite that enables you to buy tickets at MovieTickets.com, make dinner reservations through Open Table, and create your own soundtrack with iHeartRadio, all while letting your friends know where you are and how you enjoyed your meal with Facebook Places and Yelp.
For all of its luxury and sophistication, the IS C is still the fun-loving, slightly irresponsible sibling of the Lexus clan. Cruising down wide open desert roads, nothing but blue sky above, you'll be easily convinced that, even at more than $50k with all of the option boxes checked, the IS C is well worth it.
Vital stats:
Pricing and trim levels:
IS 250C ($42,610) – 2.5-liter V-6 engine with 204 horsepower
IS 350 C ($46,890) – 3.5-liter V-6 engine with 306 horsepower
Fuel Economy (city/highway/combined): 22/27/19
Safety Ratings: Not yet rated
Lexus is the title sponsor of Arizona Foothills Best of Our Valley Finale Party on April 25. The fourth-annual Best Of Our Valley contest highlights the creme de la creme and names a victor in hundreds of categories. Click here to purchase tickets.