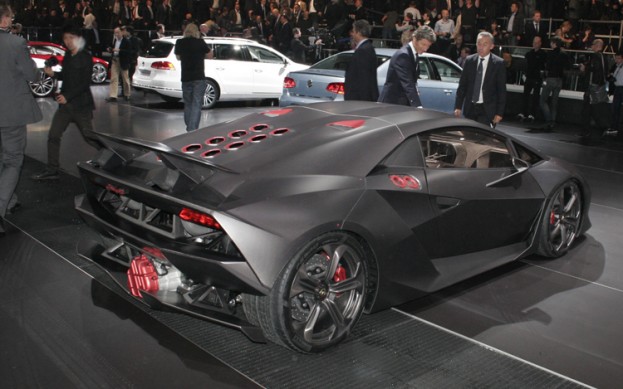 Whether one uses it to speed down remote desert highways, or to race through dense inner city grids, Lamborghini has never been a brand of subtely, but rather a brand that is daring and garish, a bright statement of one's outlook on life and motoring.  It is good to know that some things never change.  Today the Italian Automaker announced that it's Sesto Elemento concept would go into a limited production of 20, selling at roughly 2.9 million dollars a piece.  While a little pricey, nothing short of a Bugatti Veyron could make such a statement as the Sesto Elemento for a Phoenix Valley car enthusiast.  Given that the initial production run is limited to 20, the vehicle gains a certain mystique and appeal to the most avid collectors.
The Lamborghini Sesto Elemento ("Sixth Element" in Italian) is a two-seater, V10 engine, high-performance concept car which debuted at the 2010 Paris Motor Show.  The Sesto Elemento is equipped with a 6-speed Semi-automatic  transmission, paddle shift, and all-wheel-drive system, mated to a 5.2-liter V10 engine engine borrowed from the Lamborghini Gallardo, generating 570 horsepower and 398 ft-lb of torque.
The chassis, body, driveshaft and suspension components are made of carbon fiber, reducing the overall weight to a mere 2,202 lbs, making it the lightest car Lamborghini has ever produced.  Perspired air is released through 10 distinctive hexagonal holes in the engine cover, while two intakes funnel cool air into the mid-mounted engine compartment.
The Sesto Elemento's high amount of horsepower combined with low overall weight translate to a power-to-weight ratio of 0.26hp/lb.  Lamborghini claims a 0-62 mph acceleration time of just 2.5 seconds, and a top speed in excess of 186 mph.
Phoenix Arizona auto enthusiast may be able to catch a glimpse of either a production or concept model Sesto Elemento at this years Phoenix  International Auto Show, taking place this November at the Phoenix Arizona Convention Center.  If Phoenix Valley auto enthusiasts cannot find it featured at the Phoenix show, then they will most certainly be able to find a production model, or possibly even a more advanced concept, at this years LA International Auto Show, taking place in Los Angeles, California over Thanksgiving weekend.